Laufen unveiled a urine-separating toilet concept at ISH 2019 that it hoped will revolutionise the sanitation industry and play a key role in future wastewater management in busy urban areas.
The Save! toilet's key innovation is the urine trap in the bowl, which directs the urine towards a concealed outlet using only surface tension. The separation of the urine removes the toxins from the rest of the wastewater, and both streams can then be sustainably processed in a way that they could not be if they were not separated.
No change in user behaviour is required, except that men have to urinate while sitting.
"Save! is the latest example of Laufen's continued dedication to a subtle and intelligent combination of technology and design," the company said.
The urine-trap technology was developed by Austrian technology company Eoos in conjunction with the Swiss Federal Institute of Aquatic Science and Technology (Eawag) with a grant from the Bill and Melinda Gates Foundation, which is investing heavily in WC innovations for safer sanitation in the world's poorest regions.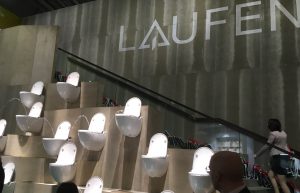 Laufen applied this concept to a new toilet design featuring a ceramic bowl that is optimally shaped to guide the water flow.
"The interface's easy maintenance, low-tech, hidden innovation ensures it is indistinguishable from any other high-end WC. Save! represents a new format for a familiar product that is business-ready and could play a key role in the future of wastewater management," the company said.
Last November, philanthropist and Microsoft founder Bill Gates made headlines at the Reinvented Toilet Expo in Beijing by holding a jar filled with human excrement.
Gates wanted to highlight the dangers facing an estimated 2.3 billion people who don't have access to basic sanitation facilities.
The Bill and Melinda Gates Foundation invests in the research and development of ecological sanitation for those most at risk.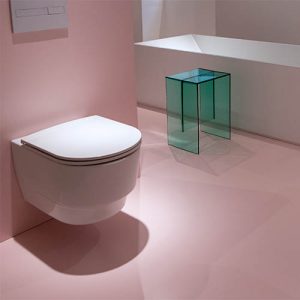 Laufen said it is fully committed to supporting the evolution of innovative solutions to this "urgent problem", but added that it was also critical to develop sustainable wastewater management solutions for growing urban areas in developed markets, where toxins from urine are polluting and destroying the world's coastal areas.
To safeguard 21st century sanitation for the world's poorest citizens, the company said it will develop a "source-separating squat toilet" for local production.
The design will be made available for anyone to produce and distribute in developing countries. This new solution will help to save lives and improve conditions across the developing world, Laufen claimed.
As we went to press, kbbreview was waiting to hear back from Laufen as to whether the brand would be making the Save! toilet commercially available in the UK market.