Acquisitive online tile business Tile Mountain has expanded its showroom estate with its acquisition of Kettering-based Walls and Floors for an undisclosed sum.
Walls and Floors has three showrooms, in Kettering, south-west London and Bristol. Tile Mountain previously had two showrooms, in Stoke on Trent and Stockport.
As part of the deal, Tile Mountain has taken ownership of Walls and Floors' retail, distribution, and specification divisions.
Tile Mountain said the move means that it has "significantly increased its market share and is now a multifaceted operation primed to compete in multiple markets including online, store-based retail, wholesale and contracts".
Tile Mountain chairman Mo Iqbal said: "Over the years, Walls and Floors has developed into one of the major players in the UK tiling industry and I am excited about leading the company into the next phase of its growth".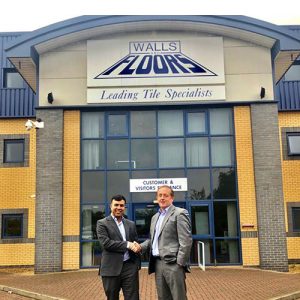 He said that Walls and Floors' strong online offering, established brand footprint and positive customer sentiment, was a key driver in the acquisition.
Tile Mountain managing director Jeremy Harris said: "Walls and Floors has a significant supplier base and great customer loyalty, both online, across its distribution and contracts networks and in store.
"We're relishing working with suppliers and customers and developing opportunities further, with the ultimate goal of improving our offering across all our brands."
Last year, Iqbal bought Capitol Tile Group's distribution assets after the Coventry firm was forced into administration.
At the end of 2018, the firm bought the company and domain name of Plymouth-based internet retailer Tons of Tiles from administrators at Begbies Traynor.
Tons of Tiles online sales are operated by Tile Mountain and all orders are processed and dispatched from its main distribution centre in Tunstall, Staffordshire.
After its latest purchase, Tile Mountain said it had become the largest privately owned tile retailer in the UK.
Established in 1987, Walls and Floors employs almost 200 people with an annual turnover of more than £30 million.
The number of people who are now employed across the Tile Mountain group is almost 300.
The group said it would be targeting sales over the next 12 months of £60m.