At Soaks Bathrooms, kbbreview's Bathroom Retailer of the Year for 2019, 40% of sales come from the Republic of  Ireland. Despite this, the effect of Brexit has been minimal compared with the huge impact of changing consumer habits, says director Wayne Lyons
At Soaks Bathrooms in Belfast around 40% of our sales are across the border in the Republic of Ireland. When the public voted to leave the EU, I was somewhat comfortable that it shouldn't have too much of a negative impact on our business.
I believe that there can never be a hard border imposed in Ireland, there would be too many possible repercussions that would have an impact on peace. Northern Ireland, the UK, Ireland or the EU do not want to take this risk.
It would have been great if we received a 'Special Status' that in some way would have us as part the UK and somehow remain a member of the EU. We could have become the Hong Kong of Europe.
Our turnover increased 22% in 2018 and we have seen a similar growth so far in 2019 with the lion's share of this coming from RoI customers. The Irish market is booming at present, especially Dublin, and this is mainly due to the devaluation of the British pound and the perception of better value for customers by travelling North. Our footfall hasn't increased a lot, it's mostly down to larger spends with coloured ceramics and on-trend brassware.
We didn't see the price increases we expected this year from suppliers. We expected panic increases due to the uncertainty, but this may be down to higher than normal price increases in 2018 after sterling weakening.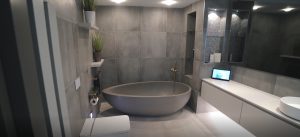 As far as preparations for Brexit go, we forward-ordered some euros in case of a hard Brexit and stocked up on our popular tile ranges from Italy and Spain. We couldn't really do a lot more as most of what we import from Europe are bespoke products from Italian manufacturers that, due to the extensive product configurations and finishes, it would be impossible to stock up on.
Northern Ireland house prices had the highest rate of growth compared with any UK region in both 2017 and 2018, and the refurbishment market is extremely strong and where we specialise. We have just employed two additional staff in the showroom and have extensive refurbishment plans for the next six months.
We have seen the bathroom industry change a lot. Five years ago, it was mainly showrooms that directed the market trends, customers visited showrooms and believed that what they saw on display were the latest trends. Now it's social media that's directing the trends. Before visiting a showroom customers are now looking up bathrooms on apps like Instagram and Pinterest. Customers know the style they are looking for and are visiting showrooms trying to source a similar style.
Now, more than ever, showrooms need to be more on-trend and update their displays more regularly to have what customers are looking for and gain the sale. We have invested heavily in the showroom over the past 12 months, which has definitely paid off.
So, uncertainty around Brexit hasn't directly affected demand and the only real difference we've had to make is planning our own contingencies. In fact, shifting consumer trends are having a significantly bigger impact than Brexit ever could.