Ideal Standard International has launched a new, £1 million showroom in Clerkenwell in a bid to integrate into London's architecture and design community and "regain design leadership in the industry".
The four-storey design and specification centre was officially opened by Ideal Standard Group's CEO Torsten Türling and UK Managing director Stephen Ewer and features displays from its entire product range including its Sottini and Armitage Shanks brands.
Speaking at the official launch event Stephen Ewer told kbbreview: "We are delighted with the space and the investment that has gone into it. This is a real statement in the market that we are moving back into being design led with retail. We are going to house the best team here. The focus is to integrate into this architecture and design community. We are back in the mainstream of design."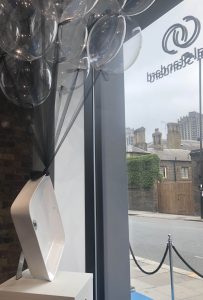 Speaking about the design of the space Ewer added: "The underlining theme and principle was to create a canvas to be able to house all the brands and the different solutions. We have the benefit of four floors so it really works well. We have a showcase floor on the top, and then you walk through the residential spaces in the middle two floors. There is a working space in the basement area, that also has a space to work with our customers."
The launch event also included a talk on developing attitudes, trends and influences on bathroom design with Ideal Standard's chief design officer Roberto Palomba and long-standing design partner Robin Levien.
The showroom is open business hours during the week, and the company is looking at ideas to open on Saturday as well. Ideal Standard would like retailers who are bringing customers to make an appointment to the team can tailor the meeting to suit the exact requirements, but general footfall is expected and encouraged.
Ewer also revealed that the brand would be focusing its attention on independents. "Independent retailers are a real area of focus for us," he said. "We have a lot of initiatives in place with Sottini this year. We have invested in our team, and we have our new ranges that launched at ISH as well as new products to come next year."