Sales of fitted kitchens and fitted kitchen products had a good year in 2018, achieving a 2.5% and 3.3% uplift respectively and independent studios accounted for the lion's share of these sales.
The latest UK Kitchen Furniture Market 2019 report from market researcher JKMR showed that total sales of fitted kitchen products as part of a new kitchen project (including appliances) hit £4.35 billion, while fitted kitchen unit sales of cabinetry alone increased to £1.44bn.
Sales values for fitted units in the retail sector were up 3.4% compared with just 2.3% growth for the contracts sector. JKMR put the decline in the contracts figure down to a higher level of small-scale developments where kitchens are more likely to be sourced through independent retailers.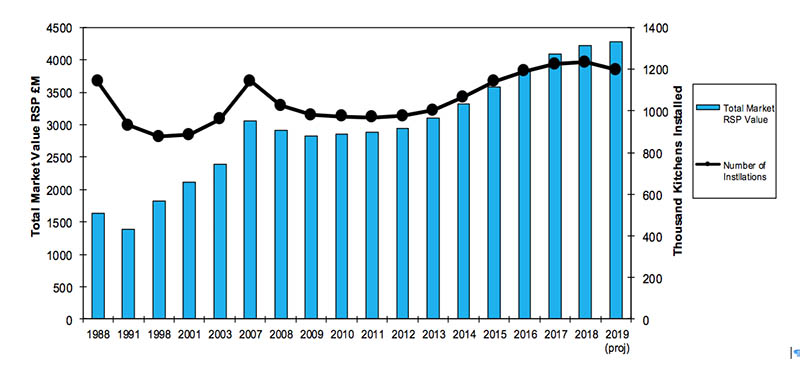 Kitchen installations rose by 0.65% on 2017 levels at just over 1.2 million in the retail market. Owner-occupier refurbs rose by just over 2% and remained the dominant sector at 60.9%. Private developer new-builds were up by 2.6%.
Independent studios, which includes Porcelanosa and independent merchants/electrical retailers, accounted for 37.4% of sales – down 3% on 2017. Trade outlets, such as Howden, Wickes, Benchmarx and other multiple merchants grabbed 27.1% of sales, followed by consumer multiples, such as B&Q, Magnet, Homebase, Wren and Ikea, at 17.4%.
In terms of kitchen product sales by value, Ikea in 2018 was in the number four slot, with B&Q in third place and then a tie between Wren and the Travis Perkins Group. JKMR pointed out that as Travis Perkins may be regarded as 'trade suppliers', this left Wren as probably the largest UK kitchen retailer.
In terms of fitted kitchen units by both value and volume, Howden remained the largest market player, well ahead of Nobia UK. JKMR estimated that these two companies between them accounted for around 54% of all UK kitchens sold last year.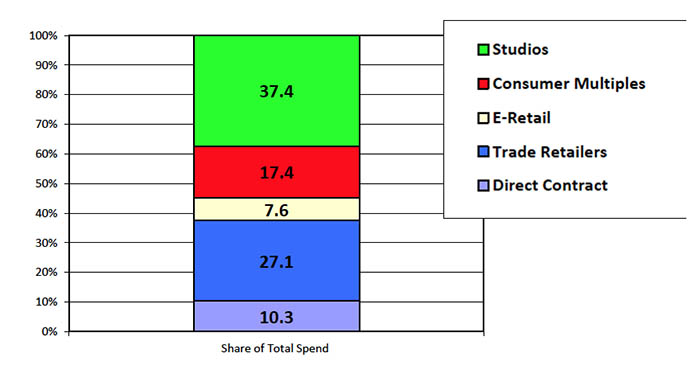 Looking to the future, JKMR said that consumers would likely be more cautious about major purchases because of the ongoing political uncertainty surrounding Brexit and market value growth is predicted to be 1.4% against 2018's 3.3% and 6.25% in 2017.
It also predicted that fitted unit volumes would fall back to around 1.2m. It suggested, however, that sales values may increase over 2018, driven by price rises.
JKMR also forecast that independents would hold their number-one position in terms of total fitted kitchen product sales and would likely increase that share slightly thanks to their retail clients continuing to upgrade their kitchens, driving up spending levels.
It also predicted a further decline in the market share of the multiples, as B&Q and Magnet struggle to grow sales.
Online buying, said the report, was still a relatively small part of the market and that unless Amazon managed to come up with an online measure/design and VR presentation offering, the market will continue to rely on physical retailers for the foreseeable future.
• Our picture shows a LochAnna Durham kitchen in warm earth and pearl