Sofia Charalambous, co-founder of boutique accessories specialist Bathroom Origins thinks retailers could be missing a trick in terms of maximising margins by ignoring the kind of products people really like and aspire to
When was the last time you sat down and truly thought about what bathrooms your customers really, really want? Last week, last month, last year?
Take a look round your showroom and be brutally honest with yourself – are you displaying products in settings that your customers would love in their own homes?
The explosion of social media, a growing interest in interiors and the ease with which people can now travel have changed consumers' aspirations and bathroom buying journeys.
Thinking of a new bathroom usually starts online and can end on it, too. From pinning ideas on Pinterest and scrolling through Instagram, from peeking on Rightmove, to taking holidays at hotels with luxury bathrooms – we live in a world where we're just one click away from inspiration. Homeowners aren't prepared to make do with boring, bland design, when they can see what's out there all too easily.
I recently read a fascinating article on kbbreview.com about research carried out by Sanctuary Bathrooms – a successful bricks-and-clicks retailer. They analysed Google search data to identify exactly what it is UK consumers most want in the bathroom. They looked at the most popular searches for bathroom products and with the results, created an image of what 'the UK's most searched-for bathroom' would look like.
"It's important that bathroom specialists have an open mind and experiment with new products, brands and displays"

Sofia Charalambous, co-founder, Bathroom Origins
We may have gasped in collective horror at 'the UK's most searched-for bathroom' image, but we need to view this as a golden opportunity. With consumers' changing aspirations on designing their homes, it's time to rethink the process of how to choose which products and brands you work with – embrace the powerful information available to you and harness the knowledge it gives you.
Much discussion has taken place about the research with one of my LinkedIn connections, who said: "This article has no relevance to the aspirations of 99% of my customers. Freestanding baths, for instance, are a complete fantasy for a typical British customer with a two-metre-square bathroom. I've no idea what this customer research was all about, but from our perspective, it's pie in the sky."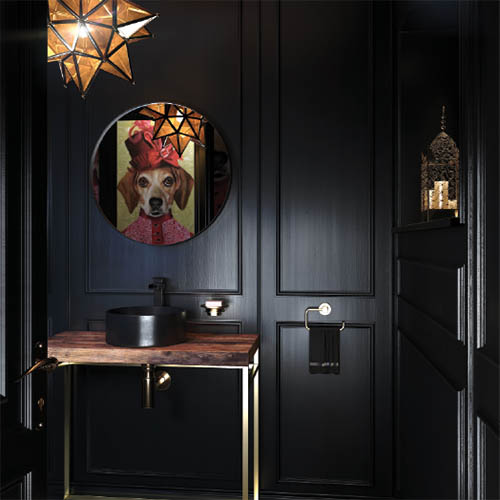 I was disappointed by, but quite frankly not surprised at, this response. How does this retailer know that it's of no relevance to the aspirations of 99% of their customers and that freestanding baths are a complete fantasy? Have they asked them? What about suggesting alternatives, so they get the 'look' in their two-metre-square bathroom?
I was recently with Chris Leighton, founder of PHS in Milton Keynes, where we chatted about all things bathrooms. I asked him if people come in with an idea of what they want and whether they ask for particular brands.
He told me: "Clients visit showrooms without brand empowerment or specific knowledge. Manufacturers put great emphasis on the power of their brands, but we find that customers need solutions before a brand can be recommended. We find that solution and partner the client with the correct product, which ultimately leads to a brand. The dream bathroom created in the recent publication doesn't shock me at all and I would describe it as the equivalent of a police 'E-Fit'. Sometimes it looks nothing like the end result.
"Clients' dreams and desires cannot always be converted into reality without some compromises because of physical layout and boundaries. However, we always strive to fulfil the client's expectations with quality design shining through at the core."
So the question to all bathroom retailers is this. How do you decide what brands and products to work with and is your target customer at the centre of this decision? Do you know what your target market is? Are you trying to stay safe and appeal to all and sundry?
And what selection criteria do you base your buying decisions on? What you've sold in the past, what you think will sell, what customers ask for? Do you rely on what the manufacturer or distributor advises you to sell? Do you keep up-to-date with interior and bathroom trends on Pinterest and Instagram and read interiors blogs?
Open mind
In my opinion, it's important that bathroom specialists have an open mind and experiment with new products, brands and displays. My favourite quote by Albert Einstein sums this up perfectly: "Insanity: Doing the same thing over and over again and expecting different results."
Increasingly, customers will walk into a showroom already armed with saved pins and photo albums on their smartphones. They have an idea of the look they want to create, but need help to make it happen. This is where forward-thinking bathroom specialists can sparkle and shine – they can advise their customers what works, what doesn't and what alternatives are available. A showroom that offers 3D and or 4D designs like Virtual Worlds can easily recreate the 'look' within the size and shape confines.
I echo the words of James Roberts, director of Sanctuary Bathrooms: "Monitoring demands and trends from UK consumers is incredibly important to our business success." [see retailer profile, pgs 102-104]
At Bathroom Origins, our target consumers are at the heart of all our product design and selection. A case in point is a range of modern/traditional mirrors in our portfolio, which sell amazingly well online but are slow through showrooms. When I show these to retailers, the look on their faces says it all – "you mean you sell these?" It does highlight that it's not always what you think will sell that actually does. For the Circle Edge mirror, 90% of sales are online, while for the Agat mirror it is 70%.