A new study commissioned by the Smart Home League has revealed that even though Europeans are positive about a connected home that can support them in their daily life, only 11% own smart-home products.
The study was commissioned to look into consumer needs and intentions in the smart home. Data services company Dynata conducted the study in August this year for the Smart Home League, using a sample of 6,000 Europeans – 1,000 each from the UK, Germany, France, Italy, Spain and the Netherlands.
According to the research results, the majority of Europeans (66%) find themselves bothered by time-consuming household tasks. This includes turning down the heating, switching off lights and searching for keys, to more time-consuming chores like vacuum cleaning and picking up parcels from the post office – all of which can be supported by smart-home solutions.
The data suggests a positive feeling towards smart-home technology, however, only 29% possess smart-home products. If you remove smart speakers (18%) from the equation, widely seen as an accelerator to smart home adoption, the percentage drops to a mere 11%. The results also showed that if people already have a smart home product they are much more likely to purchase one again.
Of the first smart products bought by Europeans, smart speakers were top of the list (21%), followed by robotic vacuum cleaners (17%), smart thermostats (16.%), smart lighting (12%) with smart doorbells accounting for 6%.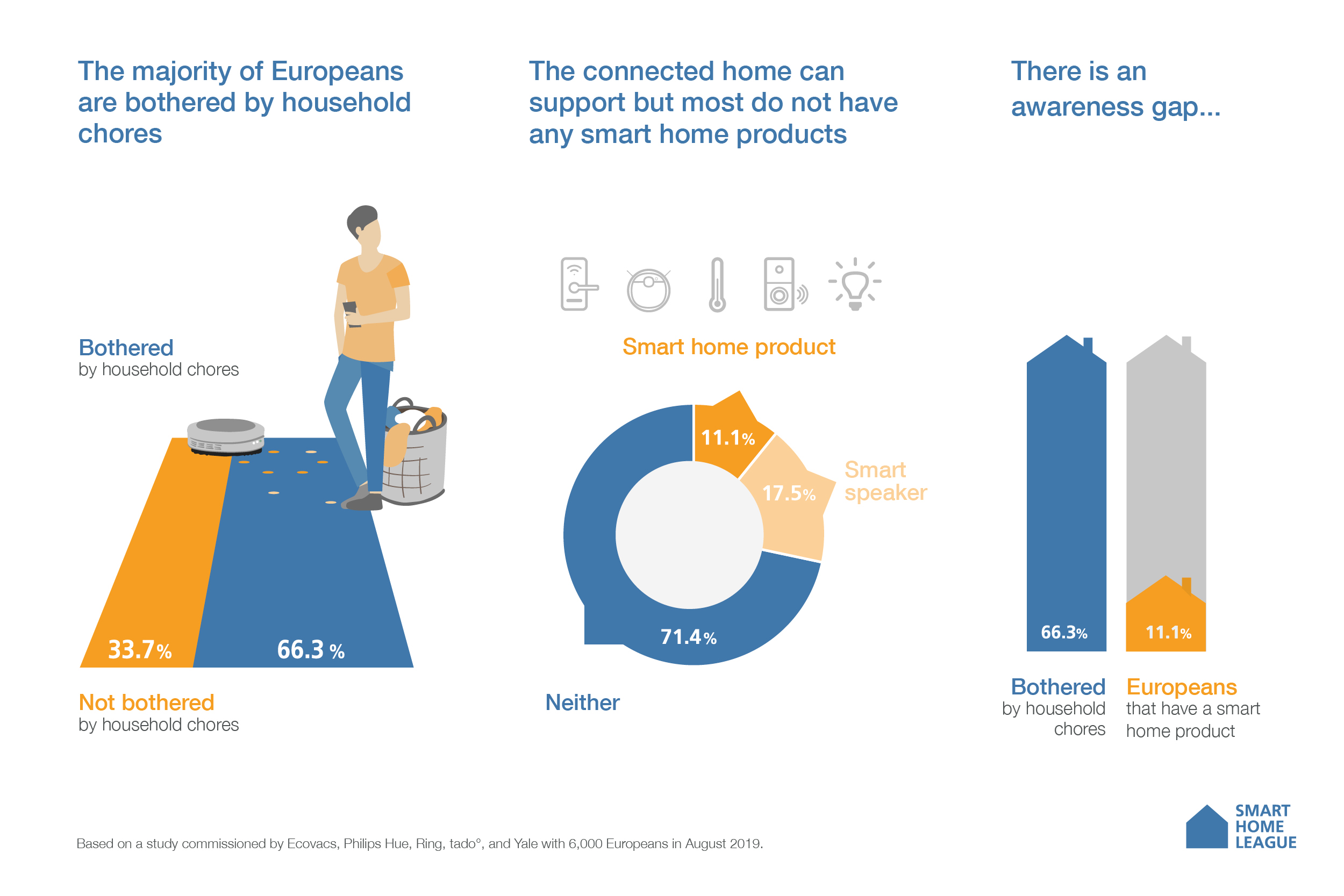 The report suggests that with smart products moving towards mass adoption, industry leaders need to "ensure that devices are accessible, affordable, and easy to use. Smart speakers, like Amazon Echo and Google Home have accelerated smart home adoption, thanks in large part to their simple setup, attractive price points, and easy daily routine integrations. In fact, 28% of Europeans surveyed prefer to interact with their smart-home devices via voice; 40% rather use an app to control their smart home products, while 32% of people use voice control in combination with an app."
The Smart Home League is an affiliation of companies in the fields of climate management (Tado°), household appliances (Ecovacs), lighting (Philips Hue), security & safety (Ring, Yale) and voice-enabled assistants (Amazon Alexa, the Google Assistant) coming together to demonstrate how technology can support people at home.
"The Smart Home League stands for a supportive home," says Toon Bouten, chief executive at Tado°. "We want to demonstrate how technology can help people make their lives easier with solutions that seamlessly integrate into every lifestyle, while encouraging a more sustainable world."
Research and Markets data (2019) says the European smart home market is expected to grow from $22.8 billion (£18.3bn) in 2018 to $44bn by 2024. The UK is the second largest smart home market in Europe worth £900 million in 2017 (GfK Global figures), however, this rises significantly to £2.2bn when smart TVs are included.