Appliance brand Beko is aiming to reach 35 million UK adults with its £2 million home laundry TV campaign this autumn.
The new campaign runs from today (October 1) through to Black Friday (November 29) and is aimed at driving consumer demand during the peak season for home-laundry appliance sales. The campaign will comprise TV advertising, VOD, Sky, AdSmart, digital, social media, PR and retail activation.
The TV ad features FC Barcelona players and will be shown during prime-time shows in September and October, such as The Great British Bake Off, Long Lost Family, Britain's Got Talent, The Champions, Coronation Street, Emmerdale and Gogglebox.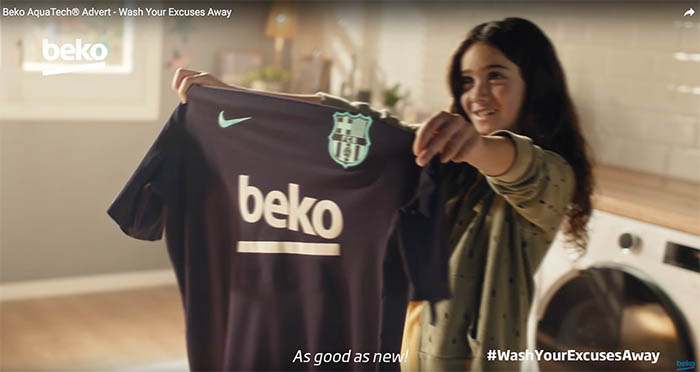 The TV ads spotlight the company's AquaTech technology, which allows users to wash a load in "half the time" with "twice the care". It is said to use "the natural power of water" rather than harsh drum movements, with water cascading from the top of the drum to clean clothes naturally.
Below-the-line in-store advertising will also be used to raise awareness of AquaTech. Retailers will have access to bespoke POS, collaborative multichannel retail campaigns and dedicated sessions with Beko training teams.
Keval Shah, Beko's head of marketing for the UK and Ireland, said: "AquaTech is the biggest launch of the year for Beko, and this is evident in the strategic marketing plan we've developed. We're aiming to reach as many households as possible during peak season for laundry sales, through as many touch points as possible.
"Our television advert has performed brilliantly in consumer testing, and we're very confident it will deliver on sales as well as massively boosting awareness of our best-selling range of home appliances."