There are only seven days left to get your entries in to the biggest awards competition in the kitchen and bathroom sector.
The closing date for the kbbreview Retail & Design Awards 2020 is November 14.
It is totally free to enter and any retailers and designers of kitchen and bathrooms in the UK and Ireland are eligible to enter.
New categories have been introduced this year for new retailers who have set themselves up in the last 12 months as well as those retailers who play a big part in their local community.
There are also new categories that will find those supplier sales reps in the sector who really go above and beyond for their retail customers.
"The countdown has begun to the closing date and it's always a really exciting period where we see just who is throwing their hat in the ring," said kbbreview editor Rebecca Nottingham.
"The closing date is November 14, that's next Thursday, and there will be no extension so make sure you get those entries in on time."
All the information on the awards, including sending in entries, is at www.kbbreview.com/awards
Nottingham and kbbreview managing editor Andrew Davies have recorded a special episode of the Kitchen & Bathroom Design Podcast where they answer some of the most frequently answered questions about the awards.
You can listen by clicking here podcast.kbbreview.com or searching 'Kitchen and Bathroom Design' wherever you get your podcasts.
If you want to hear from some of this year's winners you can read all about them here:
Louise Berry from Naked Kitchens
Kitchens International, Scotland
And here's the full list of categories you can enter: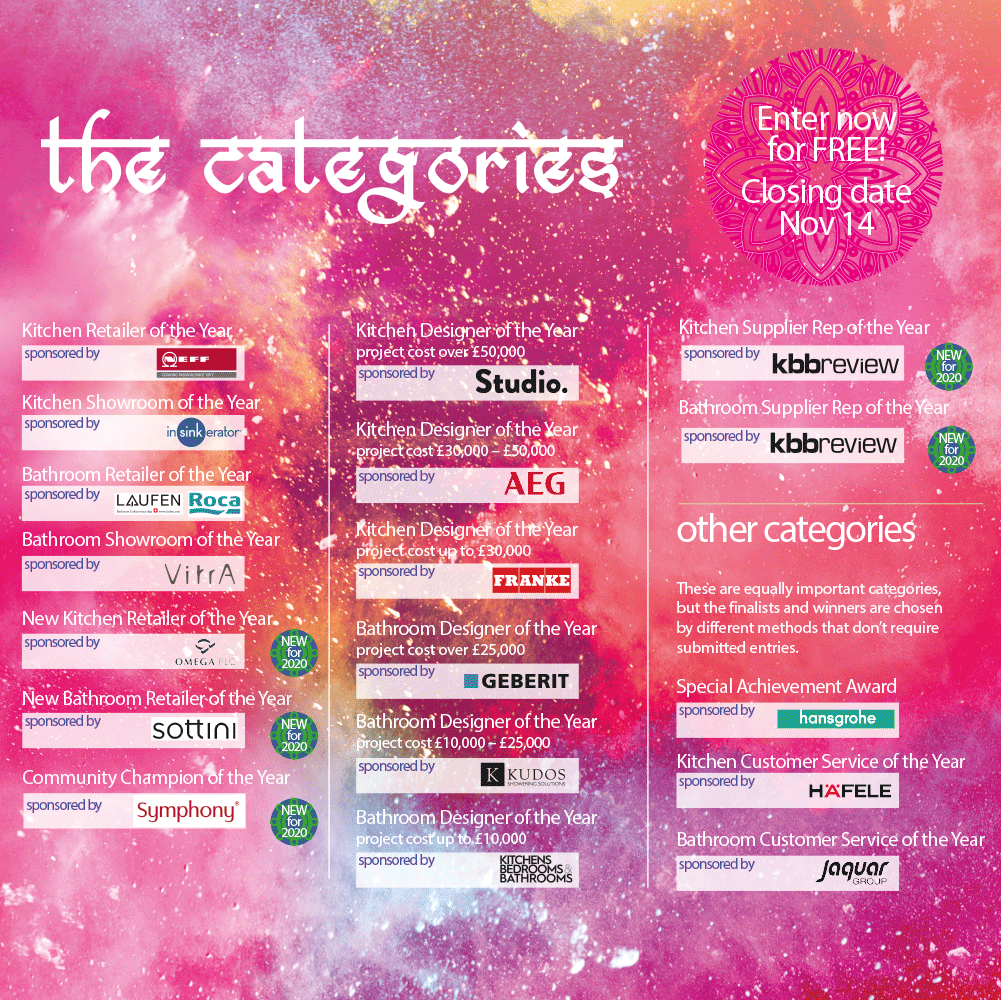 Kitchen Retailer of the Year
Bathroom Retailer of the Year
Kitchen Showroom of the Year
Bathroom Showroom of the Year
New Kitchen Retailer of the Year
New Bathroom Retailer of the Year
Community Champion of the Year
Kitchen Designer of the Year: project cost over £50,000
Kitchen Designer of the Year: project cost £30,000 – £50,000
Kitchen Designer of the Year: project cost up to £30,000
Bathroom Designer of the Year: project cost over £25,000
Bathroom Designer of the Year: project cost £10,000 – £25,000
Bathroom Designer of the Year: project cost up to £10,000
Kitchen Supplier Rep of the Year
Bathroom Supplier Rep of the Year