The WTA industry conference speaker and KBSA corporate chair Malcolm Scott looks at just how clever smart products really are, what benefits they actually offer and how retailers might sell the benefits
There was much talk about smart appliances in last month's issue and much discussion about 'ownership of the kitchen' at the recent IFA show in Berlin. So just what is available, what types of appliance are now on the market and what real benefits do they offer consumers?
There are two basic types of remotely-controlled appliances – NFC [near field communication, developed from RFID technology where two chips transfer data to each other] and wireless communication via Bluetooth or wi-fi, where appliances are controlled via an Android operating system using a general tablet or phone, or via iOS the Apple operating system.
I have avoided using the description 'smart', as some brands use this to mean web-capable, others to describe NFC remote control and others for appliances with intuitive 'fuzzy logic' but no remote control.
Most people agree smart appliances offer three types of advantages. Those that are practical, like remote-access diagnostics when a service call is needed to ensure the engineer arrives with the correct spares. Those we can all recognise as a feature, but are not regarded as a practical benefit by most consumers, like a remote-controlled tumble-dryer. And finally those that have a gimmick to impress the kids with features no one really needs, like a kettle you can switch on and off via Alexa.
In the middle ground, there are Amazon products like the AmazonBasic microwave that is controlled via Alexa to enable you to issue voice controls like 'reheat my coffee' without having to learn how to use it – but is it a benefit? Within the wider home, products such as the 4lite home-lighting range have full wi-fi-enabled controls to allow users to switch lights on and off throughout the home via Alexa or a phone. All of the big energy providers offer systems that allow consumers to control home heating systems and monitor running costs. Very simple and practical benefits.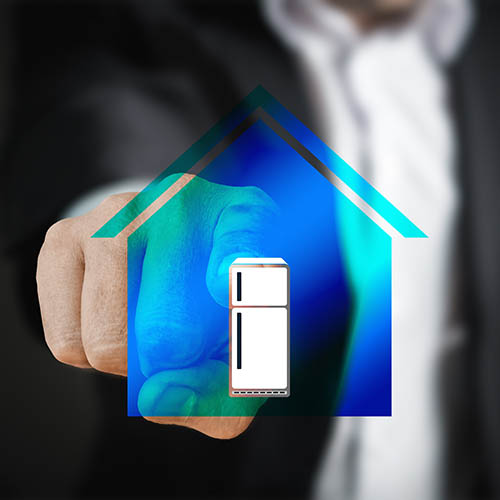 When you look at what smart major appliances are currently available, you quickly see that some manufacturers have really gone for it, with full sets of enabled products, some have gone for a more limited hero-product offering, and a few have tried to make wi-fi-enabled products for the mass market at relatively low prices.
The picture is similar with the big retailers, with John Lewis having a reasonable sales offering of smart appliances, backed up by web page and in-store features, while most other major retailers offer a lot of different smart appliances and a smattering of wi-fi-enabled products, but are not yet pushing the full smart-home concept.
Manufacturers broadly fall into four camps: those attempting to take control of the full kitchen; those attempting to market a selection of different enabled appliances that are not really a set; those looking to promote a single hero product, or those who are not yet offering any such products.
Miele, Bosch, Whirlpool, Hoover, Neff and Siemens have gone for the 'take control of the kitchen' option, offering coordinated suites of appliances. De Dietrich, KitchenAid, Indesit, Hotpoint, CDA, Caple, Beko, Electrolux, Zanussi and AEG have chosen to concentrate on other unique features and have not yet embraced the full smart-home concept. Brands like Candy have created smart appliances on a category-by-category basis, such as freestanding dishwashers from £249 retail and dryers from £199, to try to create consumer awareness.
Brands such as Samsung with its Kitchen Hub fridge, and Sharp with its premium integrated dishwasher, have limited hero-product offerings. Then there are the likes of Stoves, which is primarily a cooking brand, but has introduced wi-fi technology to allow the user to control a single category of product via a phone or tablet.
So, what benefits can you offer customers? With many wi-fi appliances, the first real benefit is remote diagnostics if an appliance requires repair. With most wi-fi ovens and compact microwaves, manufacturers have created easy-to-use apps that enable the user to download programs for recipes with cooking times and temperature settings straight to the appliance. And the ability to interact via a tablet even encourages teenage children to use the oven.
"If you're embracing the hi-tech lifestyle, a full set of interconnected appliances is a huge wow factor"

Malcolm Scott, KBSA corporate chair
With refrigeration, several brands, such as Samsung and Siemens, offer inventory control apps to keep track of what's in the fridge and alert you when the 'best before' date is close. Other brands have a remote camera so you can check fridge contents from the supermarket.
With laundry products, wi-fi products offer the ability to switch them on and program them remotely. For some consumers, this has the benefit of being able to load the appliance in the morning before they go to work and start it later in the day to avoid leaving wet clothes in the machine once a cycle has finished.
On dishwashers, the main wi-fi feature is switching them on and off, so if you leave home before the kids, you can check that they have followed instructions and switched the dishwasher on after breakfast.
For those who really want to live the smart life, apps exist to remind you that your supply of detergent is running low. In refrigeration, apps exist to alert you if there is a temporary power cut that might spoil freezer contents.
If you're embracing the hi-tech lifestyle, a full set of interconnected appliances is a huge wow factor. To ask Alexa to turn the oven on ready for a specific recipe, then instruct the dishwasher to start, tell the chimney lights to turn on, tell the extractor to start working and ask the coffee maker to start making a brew, is now possible.
For those who spend hours on their tablets and phones, and these days that is most people, the benefits that some of us are not convinced make life any easier are simply must-have benefits.