Bauformat Kitchens has launched its first training centre in the UK within KBB retailer Clearly Interiors in Burnley.
The newly refurbished showroom has space for training sessions for up to eight retailers or installers and features the largest number of Bauformat displays in a single showroom in the UK.
Bauformat owner Delf Baumann said: "It is great to be opening the showroom here in Burnley. It is the largest showroom for Bauformat in the UK and one of the most fascinating showrooms I have seen this year. We show more than 25 displays, which are wonderful bespoke kitchens.
"The UK is an important market for us. It has always been and will always be important for our export business. Although politics try to make us a bit uncertain – I am not uncertain. We will always work together."
Adam Schofield and Paul Capstick, directors of Clearly Interiors, were approached by Bauformat as the pair had a long-standing working friendship with Bob Marsden, Bauformat country manager for the UK and Ireland.
Marsden spoke with kbbreview and said: "This [the training facility] represents our friendship – it sounds corny, but it wouldn't have happened without that. They were just the perfect people, not just for where they are, but how they think."
The whole of Clearly Interiors' top floor has been renovated to include the 25 displays, showing the full spectrum of Bauformat products – from the top to its affordable range Burger. Clearly Interiors also sells bedroom, bathroom and home-cinema solutions.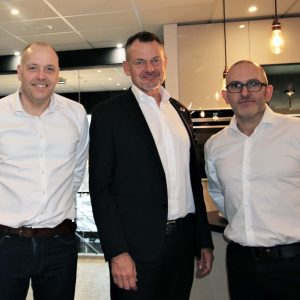 Paul Capstick told kbbreview: "So many people in the industry are too complacent that they have the knowledge and I don't think that you can train anyone enough in product knowledge. It is an ongoing task daily, with new things coming out every day from the fitters' training to being able to read the manuals correctly.
"We wanted to be able to show our customers – retail, domestic, or commercial – everything under one roof. We stumbled across Bauformat due to connections, and we then found that they were just genuine guys to work with – I usually say hand in glove, and the glove fits the hand."
According to Marsden, training days will have a practical aspect to them and the intimate nature of them will mean that retailers will be able to get to know each other better and be able to ask questions.
The first training session will be held at the end of Q1 2020 and will be hosted by a training manager who will come over from Germany to go through the German training program. A bespoke UK-specific programme will be finalised soon.
The location of the showroom is just off the M65 on the outskirts of Burnley, and the UK Bauformat team decided this was more appropriate than a showroom in London. Marsden also said he believes it will be easier to get retailers to attend training at a UK facility compared with getting them out to sessions in Germany.
He said: "It is always difficult to get people in for training. It is very well known in the industry that people don't want to travel very far.
"It is tough to get people over to Germany to the factory – that stretch of water is a psychological barrier. But we didn't want to have a swanky address in London, where we had a company showroom and expect people to come down to London. But you aren't likely to get anything near the scale you have here."