Sharan Johal, creative director of Vogue Kitchens in London, picks up on the debate about how the industry is still male-oriented despite the fact that women tend to make the buying decisions as KBB consumers
I recently undertook a large kitchen design project where I was working with an architect and an interior designer. I am sure we have all done that before, but there was something unusual about our project meetings. There was limited conflict and any disagreement was easily resolved.
We all thought it an unusual experience to work with each other. Why? Because all the parties were women. Yes, it is 2020 and yet we still thought it a rare occurrence.
I really like working with men as well as women and I have deep respect for anyone of any gender as long as you can get the job done. My husband Jo and I run our business together and we employ a 50:50 split of fantastic male and female staff. I am also delighted to highlight how well-represented our industry has become in terms of the amount of talented female designers there are, and long may that continue.
But, if we are going to talk about the state of the industry, has anyone ever noticed how male-biased it is? My goodness me, unless you attend an event where the wife or life partner is invited too, then it is always overrun by men. The fact that this industry is 'blokey' has never been a secret and it is much, much better than it used to be, because when I started out it was a 'boy's club'.
So, what does our industry consist of? Kitchen furniture manufacturers and their agents, kitchen design specialists, mainly independents and then there are numerous suppliers, most of which are SMEs that employ fewer than 250 people. Of my supplier partners, there are still more men than women who walk through my door to sell to me and while the percentage of female reps is increasing, they tend to report to male bosses. There are some powerful female managing directors for certain manufacturing brands, but I can count them on one hand.
Then there are the larger companies that sell home appliances. Some I have accounts with, others would not necessarily fit with my customer profile but would like to sell to all of us. I took a look at the publicly available figures that are supplied to gov.uk about some of them. I was not looking at the gender pay gap in relation to actual pay, which was always higher for men, by the by, as I was just interested in the percentage of women in top-tier roles. The figures for 2019 are yet to be published, so these are all gleaned from 2018 data.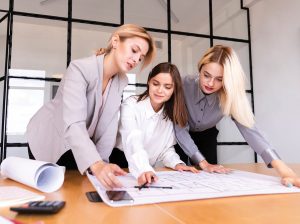 Not one of the major home-appliance companies had a greater percentage of women in top roles. Miele UK has by far the highest at just over 40%, followed by the BSH Group UK with just over 36% of women in senior positions. The Hoover Candy Group and Glen Dimplex both have fewer than 20% of women in senior roles and Whirlpool Group has fewer than 13% of women in top positions. I am not going to speculate as to why this might be, I am just highlighting that this is the current state of our industry. Women tend to make the buying choices when it comes to purchasing their products, so it seems to me like a missed opportunity to have so few making important decisions when it comes to selling them.
Where women are central to our industry are those that either write about it, and there are many more female journalists than men in our sector, or those that run businesses to promote the senior figures that we read about. The specialist PR and marketing agencies that focus purely on KBB businesses are dominated by female bosses and staff. While these women are influential, they choose to work behind the scenes, which is interesting to me, and maybe a key reason why we all read more about the successful men in our industry than the women.
If you don't believe me, take a look at the kbbreview website and its recent retailer profiles – hello, boys! Total respect, therefore, goes to Diane Berry, the multi award-winning kitchen studio business owner who actually uses her name as her brand. She is very well known in the industry and she is prepared to stand up and be counted in our male-dominated sector.
In my 20-plus years of being a retailer and a buyer, both Jo and I have had great relationships with the female representatives we have worked with. I cannot say the same about certain male representatives. I have even come across the odd dinosaur who has treated me as if I didn't exist when it came to decision-making, preferring to do the 'important business' with my husband. In an average year, I buy over a £1 million worth of products from our suppliers, and I don't actually need to ask Jo's permission to do that.
The one thing I have learnt about my business is that the final purchasing decision is more often than not made by the female partner – not just because she will be the person doing most of the cooking in the kitchen, but because she can actually make a decision!
So, while it is definitely an improving situation, let's see more women in our industry gracing these pages and talking about their businesses, as that will go a long way to balance the gender divide.
If you have any thoughts about the gender divide in the kbb industry then please contact editor Rebecca: [email protected]