Hettich
Stand: V105
As it did in 2018, Hettich is providing a 'Take Five' area for bratwurst, pretzels, beer, tea and coffee and soft drinks. While taking a break, visitors can view examples of Hettich's new AvanTech YOU concept with the focus on individualisation and the unique offering of a choice of drawer runners that operate on a common template.
Salice
Stand: O100, N104
On this "show-stopping stand" featuring plush carpets, greenery and beautiful displayed cabinetry, visitors will be able to view, and see in operation, Salice's ever-expanding selection of products, including award-winning hinges, sliding systems, lift systems, runners and drawers, and accessories for furniture, including stylish storage and discreet waste-management solutions.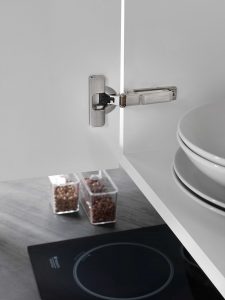 Crofts and Assinder
Stand: N122
Crofts and Assinder is pleased to be launching several new products and finishes at the kbb 2020 show. Additions are being made to its Grosvenor range and new finishes include American Bronze and matt black. Handles and knobs from both its Style Guide and Special Works ranges will also be on show.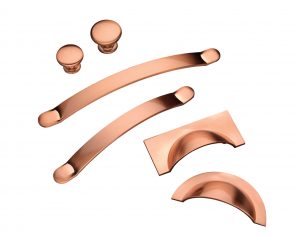 Agoform
Stand: J85
Agoform will be showcasing its portfolio of interior drawer solutions at this year's exhibition. Among others, it will be displaying its Cadre range of cutlery trays (pictured). Brand representatives will be on the stand throughout the duration of the show to build relationships and discuss details of its latest trends and product developments.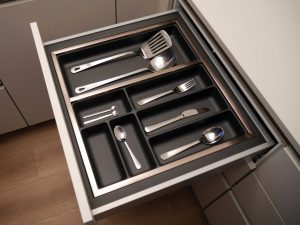 Armac Martin
Stand: S104
Armac Martin says it will be exhibiting some exciting new additions to its popular MIX collection. This solid brass knob range has been designed to give Armac Martin's customers more freedom and features pieces that the company says can be effortlessly mixed and matched – no matter what your design project is.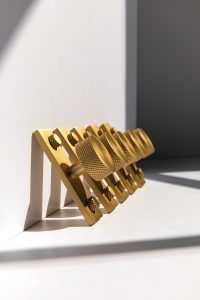 Daro
Stand: O110
Billing itself as 'The Drawer Experts', Daro will present what it calls the "best pre-assembled drawers in the world" – the metal Blum Legrabox and Ta'or's wooden Ta'or Box. They can be delivered in any size, any quantity and any available finish. In the case of Ta'or Box, that's 14 million options and 11 finishes, the company says.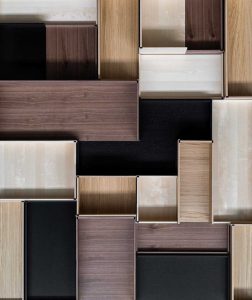 Furnipart
Stand: T111
Furnipart's 020 collection is a compilation of designs that show new takes on the classic Nordic tradition as well as interpretations of future trends. Understated details and tight lines are key to the 020 collection. Whether it be a classic handle, such as Balance, or a more ornate handle like Torch.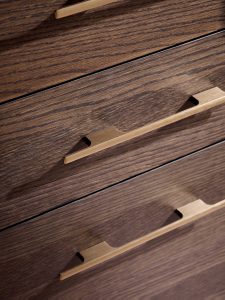 King Slide
Stand: O130
The Taiwanese brand is showcasing its latest drawer system series – Simlead, which offers three main designs. Ever-Active Push Open allows the user to push open the drawers from a closed or partially opened position. Switchable Push Open activates or deactivates the push-open function with the flip of a switch, and Vibration Safety Design (VSD) automatically locks drawers in unstable conditions.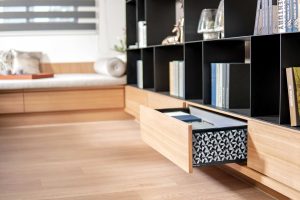 Blum
Stand: t120, W120
Blum is set to unveil a selection of brand new products at this year's show. These will include Space Step – a step to help users reach taller shelves while creating extra storage behind the toe kicks of base units. Visitors will also be able to experience the new Aventos HK TOP lift system, with a discreet, space-saving mechanism that securely holds an open pull-out shelf in place.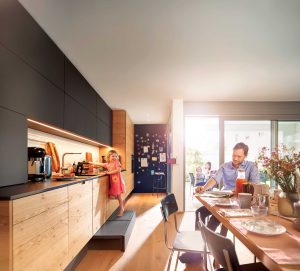 Titus
Stand W101
Cabinet hardware expert Titus is promising to make a big impact at this year's kbb show by launching new TeraBlack versions of many of its most popular products, including its hugely successful T-type hinges. TeraBlack is described as an "exceptionally attractive" non-reflective finish, which is said to retain its appearance throughout its working life, while also offering enhanced resistance to corrosion.