With the bedroom furniture market worth £880 million, Andy Russell, MD and owner of Interior Door Systems (IDS), told kbbreview at kbb 2020 that retailers should be cashing in on the bedroom market.
Speaking to us on the IDS stand, Russell emphasised that bedrooms are no longer the 'forgotten B' in KBB.
He said: "I think they should have got into it possibly two or three years ago. We are on the crest of a wave.
"The market is definitely growing for bedroom furniture. It is currently valued at approximately £880m last year. Six years ago, the sliding door element of that it was 4% of the fitted bedroom market and forecasts are that by 2024 that will have grown to 22% to 26%."
And Russell pointed out that sliding doors are coming out of the bedroom into other rooms.
He added: "We are seeing our doors used in the kitchen and bathroom markets. We did a project in Disley near Manchester where they used our doors to divide off the kitchen with the track embedded in the parquet flooring."
Russell was clear that there was more convergence of the markets these in retail and contracts markets: "These three markets – kitchens, bedrooms and bathrooms are coming together more and more. Most of our client base is multi-use product. They are being used as dividers in kitchens and we have done projects where people want to use our doors divide off the bedroom from the en suite. It is just evolving in all areas.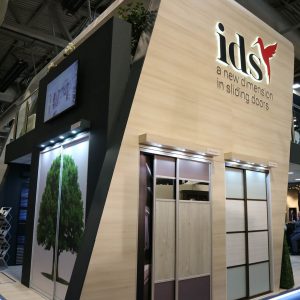 "We were approached recently with the R&D department at car maker Bentley. We did a project for them for a client in Hyde Park that added up to £37 million."
IDS, Russell revealed, also has ambitious growth plans to double turnover over the next four years. But he acknowledged that it will need commitment from everyone at IDS. He told kbbreview: "It's no good just me committing to it. There will be the opportunity for a management buyout. We have made some employees directors and as an incentive they get a dividend each year to get them tied in. And now they are thinking 'this is mine'."
Russell added that they had been doing good business this year at the kbb show. He said: "This year, I would have to say that it is the first time I have been so positive as to say let's book again. We were at the vey front of the hall last time and people just walked past us. The quality of the leads was low because people were browsing – mentally buying but not physically buying. The last two shows have been quite weak as regards sales, but I have to say that 2020 has been quite fruitful. We have had some great brand names visiting and we have done very well."
And Russell confided that he will be teaming up with another brand for his stand in 2022.