Last month we featured an article by kitchen designer Rob Mascari, claiming retailers should charge for their services rather than their products. Freelance 'concept planner' Karen Wallace gives him her backing
I found Rob Mascari's suggestion to "sell your services, not your products" very interesting. Particularly as I only sell my designs – not products.
It's a brilliant article and I respect each person's point of view completely, but it did seem to show that this concept still isn't for everyone. Some retailers will resist change and that's their choice.
I describe myself as a 'freelance concept planner'. In the UK, fewer than 20 kitchen designers work in this way, but in countries like the USA, it's commonplace.
I often design kitchens for individual clients, who pay me for their project upfront. I usually spend about five days working with them on a kitchen and laundry/utility design, remotely via email. I supply the know-how and tweak their suggestions or offer a few of my own, working from their measurements, to come up with a design that is right for them.
I produce a PDF with the chosen design's plans, elevations, perspectives and an item listing. They then shop around with their own design, compare like for like, and make an informed choice of where to buy.
It's a win for the clients, as they don't have to book appointments with different showrooms, have several surveys and sit through several presentations. And then of course, try to work out who's offering the best value and service.
It's also a win for the retailer, as the clients come in with their own drawing and cabinet listing and ask them to price it. It's a good lead for a start – with minimal effort required by studio. Obviously, if they secure the deal, they'll then want to do their own survey and site visit, etc, but until then, they have considerably less time costs to recoup should this not lead to a sale. The clever ones offer to discount the design cost off the price of their kitchen quote, as the clients are obviously looking for a deal.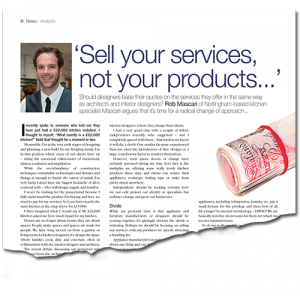 And lastly, it's a win for me. I get paid for doing something that I have loved since even before I was offered my first paid job as a kitchen designer back in 1985 (job offered by the company my parents eventually bought their kitchen from after shopping around with my design!). But I also get to really help everyday people spend their hard-earned money wisely on something that's been designed for and with them, but most importantly with no undercurrent of sales pressure at all. Which even the best designer, linked to a studio, can't truly say they can really offer in the system as it currently stands.
So do I think Rob's idea would work? Maybe, but only if more studios valued what they are supplying – their experience, design knowledge, product ordering, management and installation. If they then sold their skills and products, still as a complete package if they wanted, but marketed as Rob suggested, it would be an eye-opener for many clients.
Most retail clients would appreciate the open and honest approach. Others may feel they can cherry-pick, so some studios could, if they wanted, end up specialising in one field over another perhaps. I've done this by focusing purely on design.
Alternatively a retailer could link in all the skill sets by simply adding in an '£XXXX when purchased with' tag to the various parts of the breakdown. This would build the whole package as a complete service, if that's what they wanted to provide.
Personally, as most retail clients will get at least three quotes, I'm all for being paid for what I do – and not risking my valuable time on a one-in-three chance. I realised what my particular set of skills was worth a long time ago.
As a freelance designer, I can help clients shop around in a fairer way, not wasting the precious time of the retailer, or the client's time either, whether they have £2,000 to spend or £200,000. I still put my time, skills and flair into working with them. They can then approach others on their journey to their new kitchen with a bit more confidence.
So, yes, I can see Rob's point and I do agree that it is reasonable and even necessary to look at alternatives to how the industry markets and values itself.
The changes have already started with the availability of product through the internet, which previously were generally only purchased through a studio. Maybe think of this in a similar way to travel shops and holidays that you could previously only buy through the holiday shop.
If you give anything of value away for free, you instantly devalue it. So, even in my own marketing, I show the value of what I have given. If, for example, I help someone on an online forum 'for free', I offer just a taster of what they could get, and that very often results in a design order. If that's not from the original poster, it's from someone who's read the thread and then got in touch for us to help them with their project. So it pays for itself as a marketing tool.
It's commonplace to get designs done when clients have absolutely no intention of buying, too. Another good reason to stop giving designs away for free. Check out sites like Mumsnet.com with quotes like these: "Ramona thank you, that's so helpful! I am thinking I would get the companies to do the designs and then pick my favourite to go online and buy with."
Or a quote from a recent discussion on Houzz: "I'd start by going into the usual kitchen shops – B&Q, Wickes etc and see what's on offer at the moment, then give them your measurements and get them to make up one of their 3D kitchens to look at. No obligation to buy. Look at as many options as possible and pick the best bits from each. You could then get a local joiner to make up what you like, go back to the kitchen shop or go elsewhere. Having looked at lots of options really helps."
I should also point out that the 'middle-aged and grey market', as John Pollitt of JJO described them in Rob's article, can actually work a tablet and relish the task of working out where they can get the best 'bang for their hard-saved buck'.
Come to think of it, the younger generation seems to enjoy the challenge, too. I've designed for all sectors and types of clients and they've all been comfortable paying for my service, in advance, as part of that research. And yes, some do actually pack a flask and head off for the day to go look around a far-flung showroom or factory.
To think they can't and won't look up things and 'do their research' is misguided in my honest opinion – sorry, John.