All the way through the lockdown Taylist Media played its part in inspiring, supporting and informing the KBB industry – so while the circumstances were unprecedented it means we just carried on doing what we've always done for over 35 years….
March
The kbbreview Retail & Design Awards 2020
The last big industry gathering took place just before lockdown began – held alongside the kbb show in Birmingham it saw over 900 people gather to celebrate the very best designers and retailers across the sectors – just like it has done for over 25 years. Supported, as always, by some of the biggest brands in the market, the kbbreview Retail & Design Awards is the benchmark event for this industry.
We're already planning the 2021 event – location to be revealed very soon – and we'll be back alongside the kbb show in 2022.

The launch of The kbbreview Podcast
When it became clear that the coronavirus had the potential to severely affect the fortunes of the KBB sector we quickly launched The kbbreview Podcast. Presented by Taylist managing editor Andrew Davies, the show talks directly to the industry's leading retailers and suppliers about how they're managing the situation, evaluating the market, and predicting the future.
The podcast has become a vital resource for anyone in the industry looking to hear personal stories that inspire new ideas and reassurance that they're not alone in facing a situation no one has seen before.
We now have over 30 episodes and counting and it has been so successful that there are no plans to stop – anyone fancy coming to a party to celebrate episode 100?

April
The Lockdown Special Design Contest
Once the lockdown began and everyone was sent home, we could sense the frustration and underlying worry coming from the normally busy and creative people of the industry. So we decided that we were in a unique position to engage their brains and get them back on the familiar and reassuring ground of designing kitchens and bathrooms.
We launched a special one-off design competition where everyone had the same brief – a challenging project involving a couple with their three kids living in a converted lighthouse. We then had two categories, one for the professionals and one for under-16s.
That's right, we knew the kids were stuck at home too so this was a great fun project for them to stretch their imaginations.
And we pulled together an amazing pool of prizes from over 20 generous companies to make the contest just that little bit more exciting.
The response was overwhelming, hundreds of people downloaded the brief and we rounded up the judges from the kbbreview Retail & Design Awards – including Johnny Grey, Charlie Smallbone and Linda Barker – to scrutinise every entry and choose their winners.
Here's Andrew Davies explaining it all in a special video:
The winner was revealed in another video with Taylist Media managing editor Andrew Davies and special guest TV presenter Steph McGovern – who hosted the kbbreview Retail & Design Awards 2019 in Manchester.
Kitchen & Bathroom Design Podcast: Season Two
The Kitchen & Bathroom Design Podcast returned with season two. Season one with its 22 episodes was successful and we heard from designers about a variety of topics from open-plan to biophilic design and compact living.
We kicked off with an interview with pioneer of accessible design and winner of the kbbreview Retail & Design Awards Special Achievement winner Adam Thomas. Then we spoke about blurred spaces with Nina Bailey, the UK design manager for Formica. Episode three featured a big discussion with Angus Kerr, sales director of The Bathroom Company in Scotland, Jim Gibson, the managing director of Stone & Chrome in Surrey and all the way from Auckland, New Zealand, Xanthe Whiteley, retail experience designer for Fisher & Paykel about designing showrooms. After that we spoke with Graham Robinson from Halcyon Interiors about whether designers sometimes play it too safe?
Catch up on all the episode on season one and two now.

We were the centre for debate on key lockdown issues
With so many retailers stuck at home, we knew that we had a role to play in connecting them, listening to what their biggest issues were and sharing best practice. This is where our social media presence became invaluable.
Here's just a few examples…
Design fee debate spills over into remote consultations  
Two Thirds of retailers still closed
Screens and signs ruin the showroom ambiance says top retailer  
KBB retailers query rules over compulsory facemasks
May
We told retailers they were allowed to open before anyone else
While we might have been enjoying ourselves up in our fictional lighthouse, we didn't forget about the day job.
Kbbreview.com broke the biggest story of the lockdown so far – one which directly affected what independent retailers could do to boost their chances of survival.
We revealed that Wren had been given official permission by trading standards to open weeks before the rest of non-essential retail – effectively giving any KBB retailer operating a by-appointment-only system permission to open their showrooms.
These Three Rooms traffic went through the roof
We knew that with so many people stuck at home, their thoughts would turn to home improvement projects and so we made sure that These Three Rooms, the digital spin-off of Kitchens Bedrooms & Bathrooms Magazine, was fully updated with loads of fantastic, relevant content.
And our instincts were right, throughout the lockdown we've seen traffic jump up by over 50% and, what's amazing is that it's stayed up there all the way through.

We did the first research on whether consumers were going to carry on with kbb projects
So many retailers and industry insiders has been talking about the theory that there was a pent-up demand waiting when the lockdown finished – a demand both from consumers wanting to finish projects they'd started but also those who, after being stuck in their homes for so long, would now want a new kitchen or bathroom.
So we decided to put that theory to the test and undertook the first research into consumers as they came out of lockdown…
The Poggenpohl saga
We were at the forefront of reporting the biggest kitchen industry story for years – the collapse and subsequent tumultuous sale of Poggenpohl. In fact, German industry press was reporting the exclusives kbbreview was breaking.
Here's just a few of the big stories…
June
The kbbreview Podcast continued to be essential listening

Here's just a few of the 5* reviews from Apple Podcast
"A must-listen for anyone linked to the KBB industry. Andrew is a great host, with a mix of insightful knowledge, good guests and humour."
"A very informative and helpful insight into many of the challenges that we all face in our industry. It's always great to hear what's working particularly well for a business. It has also enabled me to think about how we do business and where we can improve or be more efficient. The relaxed style makes is a great listen and it's well recommended."
"I've not only found this podcast extremely informative, but also a great form of communication in these strange times. Life as an independent can be lonely but this update on the sector has helped me understand what everyone else is experiencing and has given me some great ideas and useful advice on how to cope."
The Save Our Skills campaign
We knew that any economic downturns – especially very sudden ones – result in some short, sharp shocks for many people and a wave of redundancies was almost inevitable. One of the unfortunate aspects of social media is that you can see it happening right before your eyes as those unlucky recipients of 'the letter' post their news.
In one day on LinkedIn we counted up well over 100 years of KBB industry knowledge, skill and experience that would potentially drift out of this sector and into another.
We could see there and then that we had a responsibility to do everything we could to prevent that from happening.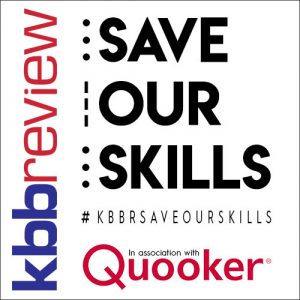 So, we decided to showcase the people that have been made redundant and, hopefully, get them seen by anyone out in the industry who is hiring. And we've been doing that by posting their details on a dedicated section of our website – Save Our Skills – and then sending out a weekly email to our full industry database highlighting the most recent posts.
We've been sending the mailers out for a couple of months now and there's been amazing feedback from the job seekers as well as those hiring. We've had several ultimate successes where people have been hired as a direct result and certainly most job seekers have reported back a much greater level of interest than they were having.
And, perhaps most importantly, many said that in an incredibly difficult time just knowing that the industry they had dedicated decades to was trying to help was of enormous comfort.
On the flip side, as part of the Save Our Skills campaign, we also starting posting job ads for retailers on kbbreview.com for free too and we've just announced that we're extending that to ALL KBB industry job vacancies until the end of August.
The Save Our Skills campaign is in association with Quooker.
July
The KBB Sessions webinars
When it became clear that all theories about consumers staying at home and thinking about new kitchens, bedrooms and bathroom was proving to be true, we wanted to put experts and consumers together to help them along that journey.
So, we started The Kitchen Sessions and The Bathroom Sessions webinars, hosted by Kitchens Bedrooms & Bathrooms editor Lindsay Blair, with engaged audiences quizzing design experts about very specific renovation issues.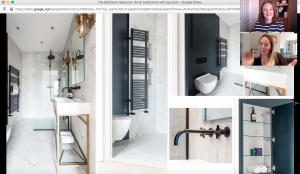 The Close To Home initiative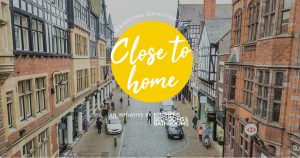 For 30 years, Kitchens Bedrooms & Bathrooms magazine has been here, inspiring and educating readers with the latest trends, creative ideas and practical guides to start them off on that journey. We give them a peek into the actual homes of those at the end of the ride and show them that the vague dream in their head really can become a reality.
But there is another reality right now that we can't avoid – because of everything that's happened in the last six months or so, those dreamers are probably just a little more cautious about making that investment.
So, we thought it was about time we did our part and not only inspire their dream but also help them find the people that can make the dream come true – and that's the independent KBB retailer.
The Close To Home initiative is about showing consumers that all the expertise they need is right on their doorstep.
We are promoting the expertise, personal service and community knowledge of their local independent retailer to consumers actively engaged in the early research stages of a kitchen, bedroom or bathroom project.
This will be done through all the print, digital and social media channels of the UK's best-selling consumer magazine for this sector – Kitchens Bedrooms & Bathrooms.
A vital part of The Close to Home initiative is creating a directory of independent KBB retailers on the Kitchens Bedrooms & Bathroom digital spin-off thesethreerooms.com. This is where we will send people looking for more information.
August
The return to print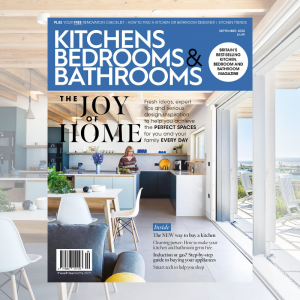 Kitchens Bedrooms & Bathrooms is celebrating 30 years of publishing in 2020, so it was only right that it was the first Taylist magazine to return to print. But that's only
just the start, we're already working on the September issues of kbbreview and Studio and planning all future issues way into 2021 and beyond.
Taylist Media is fiercely proud of its status as an independent publisher – our size meant that during the lockdown we were not weighed down by huge corporate red tape. We could be dynamic, flexible and nimble – understanding and reading the market in a way that only media brands with the heritage of ours can.
We are excited about the future and the plans that we're drawing up for 2021 and beyond will build on the experience, campaigns and initiatives started in the lockdown.
We can't wait to share them with you.