BSH's chief marketing and sales officer Matthias Ginthum (pictured) struck a positive note in his opening address of the company's press conference at this year's IFA show in Berlin (Sept 3-5).
Sales were up and a recent survey indicated consumer were focusing more on their kitchens, he said.
He took the opportunity to highlight how the Covid pandemic has affected the world.
He went on to say: "This year IFA can't take place in a way we are used to, but the Global Press Conference is providing us with the opportunity to present our highlights live, here in Berlin, and let the whole world participate in a live stream. We are very thankful for that. And let me also take this opportunity to point out that it is important not to forget how seriously many countries and people have been affected by the epidemic so far and the struggle they face dealing with its consequences and we send them our best wishes for a quick and full recovery."
Ginthum added: "And I am proud of our teams who have been working day and night despite the lockdown, remotely in home offices, in order to meet one magic date, to present our latest innovations from BSH at IFA in Berlin.
"We will present a firework of new products, features and services. To improve the quality of life of people at home. That is the purpose f our company and our mission.
"Recent months have emphasised the central role that the home, and especially the kitchens play in our everyday lives. Society has faced restrictions and has set new priorities. With people focusing on their homes, life in the kitchen became more important. Many discovered their passion for cooking and baking and others to appreciate innovative features that make everyday housework easier. And for good hygiene."
But he emphasises the positives: "In the past months, fortunately, we have seen an increase in demand for home appliances and the BSH brands are closely tied to people and their various lifestyles and requirements. And as a market leader with a 50-year success story, it is our obligation to stay close to people in whatever circumstances. It was the kitchen where our success story began and we are writing the next chapter."
He then went on to outline the areas where BSH is concentrating in its future product development, citing digitalisation, connectivity and sustainability. And all of the new products from Bosch and Siemens that the company went on to unveil were fully connected via its Home Connect technology and app.
Ginthum also emphasised the importance of sustainability in its products and production sites and added: "In all our efforts to achieve improved ecological sustainability, we are aiming for a very special success this year. By the end of 2020, we at BSH want to be the first company in our industry to neutralise direct CO2 emission at all of our locations worldwide. This means that the manufacturing of products at BSH locations will be carbon-neutral as of the end of 2020. This is a clear commitment and contribution from our company to climate protection. And a clear reflection of consumer wishes to set new priorities and to rely on strong brands that people are convinced of."
During his presentation of new products, Harald Friedrich, MD of Bosch, said that the kitchen is "becoming the heart of the home again" and that appliances are "a sharp focus for consumers".
When presenting the latest product launches from Siemens Home Appliances, CEO Roland Hagenbucher referred to this year's "unprecedented challenges" and said that "we have had to reinvent ourselves and during this process, two things have proven to be particularly important – support for managing everyday life through smart tech and connectivity and [producing appliances for] stylish kitchens and elegant homes. This has proven to be more important than ever".
He pointed out that this was confirmed in a survey carried out for BSH by researcher Zukunft Institut on 'Kitchens and Homes in Post-Coronavirus Times'.
He said it showed that the design of the home had increased in significance for more than half of the general population. He added: "In towns and cities, this figure increased to two-thirds. The kitchen did and does lie at the heart of this. Demonstrated by the fact that people are prepared to invest considerably more here. Despite, or precisely because of corona, one third of city dwellers want to invest in their kitchen in the near future. And then, a number that brings me particular joy, 51% of respondents said that a high-quality kitchen offers them a better quality of life. Our innovations are aimed precisely at achieving this better quality of life through the use of smart functionality and aesthetics."
Product highlights presented during the presentation were a new generation of smart dishwashers from Bosch with 25% more capacity for smaller items and a Clean Zone for more heavily soiled items. The brand also presented a Serie 6 washer-dryer with 6kg drying capacity and 10kg for a wash only. It also has a HygieneCare pre-treatment feature that is said to kill bacteria.
Cooling-wise, Bosch also showed is large XXL fridges with a 690 litre capacity and VitaFresh area to help food last longer.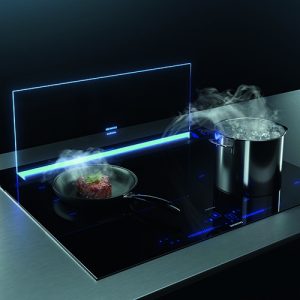 Siemens unveiled new dishwashers that are 100% connected and promise to stay future-proof by smart updates. The brand also showed a new collection of downdraft extractor hobs – including the GlassDraft Air (pictured) – and updates to its Eq9 Plus coffee machines.
In his closing remarks, Ginthum said: "In the future, we will provide consumers with even more guidance to find and save the best program for each individual. Home Connect is being further expanded and enhanced with each new products."
Ginthum ended by thanking Messe Berlin: "It is important to personally say thank you to Messe Berlin for resolutely driving forward with much energy and conviction that innovations are really important as the driver of every economy. We need a platform and exchange for this interaction."