Gaggenau has celebrated its 333rd anniversary with the opening of its newly-designed showroom in London.
Situated in a Grade II listed building in central London, the new Gaggenau London was designed by a team of international architects. They ensured consistent branding for all European venues, however each location has been designed to fit in with the city of origin.
Gaggenau London features a wall decorated with London Underground tiles, paying homage to the city's "infamous" travel system.
It also includes elements from Gaggenau's heritage such as an oak floor using wood from the Black Forest in Germany where the brand was founded, as well as a wooden 'heritage wall' made out of pine wood from the same forest.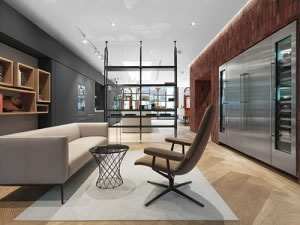 Sven Schnee, head of global brand, Gaggenau, said: "There is no better way to celebrate Gaggenau's 333rd anniversary than reopening our renowned Gaggenau London venue. As heritage is a vital part of the Gaggenau brand history it is important that we celebrate our key values in any way we can. Using materials from the Black Forest where Gaggenau started out makes visiting Gaggenau London a truly unique experience that we can't wait to share with our consumers."
The appliance manufacturer will also hold a series of three events to celebrate this anniversary.
The first of which took place on May 3, with two others to follow on June 3 and July 3. Three of Gaggenau's partner chefs will also be holding exclusive tasting sessions at each event.