ArtHouse Creative Interiors, Alderley Edge, Cheshire
This month we're showcasing the design talents of this year's kbbreview Kitchen Showroom of the Year Award winner, ArtHouse Creative Interiors   
Dedicated Siematic dealership ArtHouse Creative Interiors is located in the heart of the affluent Cheshire village of Alderley Edge.
The award-winning studio was designed by owner and managing director, Julie Otulakowski, in partnership with Siematic's architect Marc Sporer.
"Marc created the overall concept following timeless elegance and I adapted the concept to reflect regional trends," Otulakowski explains. "They say people buy from people but, actually, people buy from people like themselves. So, with that in mind it was important to create a studio that reflects the lifestyles of my clients and that of my own. It appeals to all five senses."
Two years ago, to mark the company's 10th anniversary, the showroom went through a major refurbishment. As part of the redesign, the studio was extended, opening two upper levels, tripling the overall capacity of the building.
The studio is divided into six zones that have been carefully designed to reflect different styles, materials and tones and highlight Siematic's diverse portfolio. It features six, full-size, working kitchen displays, designed to give consumers a sense of how they could look in their own home.
"On the new first floor, visitors can explore Siematic's acclaimed 'Classic' BeauxArts.02 kitchen, along with the contemporary S2 Urban design and the entry level-friendly S3 kitchen," Otulakowski says. "On the ground floor, we continue to showcase three additional Siematic displays, Pure S3, Classic BeauxArts design and a further S2 Pure design."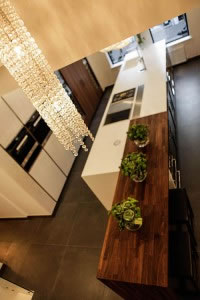 The showroom also features two presentation areas. One is set within a kitchen display, while the other is a separate room, dedicated for customer presentations and corporate entertainment.
According to Otulakowski, good showroom design is a constantly evolving process and should be updated as often as possible to reflect changing styles and trends.
"Although we recently redesigned the showroom," she explains, "I'm already changing certain zones to reflect future trends and concepts.
"Our target audience is female-driven, so we constantly keep a fresh eye on trend forecasting within the fashion industry – colour, tone, texture and, more importantly, brand. Fashions change and, likewise, studio concepts should not be averse to change."