Last week, kbbreview launched an impromptu competition to find some of the best Christmas window displays created by independent kitchen and bathroom retailers.
Even though it was open for less than a week, dozens of retailers sent in their photos of amazing, impactful and creative displays.
You can see a lot of them at this link.
The competition was judged by Taylist Media managing editor Andrew Davies and retail experience expert Tim Nash from agency Wild VC.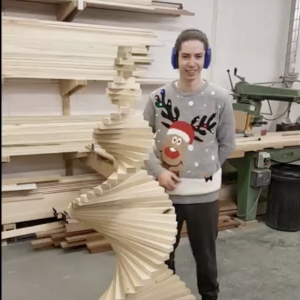 The winner is Burlanes Interiors, who has showrooms in Essex and Kent. The window in its Chelmsford studio was built around an incredible wooden Christmas tree handmade by joinery apprentice James Prince (pictured) using offcuts of tulip wood and oak.
You can see a video of James putting the tree together here.
"This is fantastic display to put in any window," said Andrew Davies. "It's stylish, impactful no one is going to pass by without stopping to look. But what makes it a winner is that there is a great story to tell behind it that really underlines the skill and expertise underpinning the whole company."
Burlanes will now get an amazing prize pool pledged in an equally short period of time.
A Christmas Hamper courtesy of the Used Kitchen Exchange
A Quooker tap courtesy of Quooker 
A Royal Botanic Gardens, Kew Lily & Cotton Reed Diffuser courtesy of Bathroom Origins 
A Smart Quiz shower tray courtesy of Acquabella
A 'Virtual 360 Showroom Tour plus a Digital Storytelling Package courtesy of Jones Digital
and
Wild VC will supply creative design services for the next window display for the winner. This will involve a consultancy video meeting and development of a concept design specifically for their window.
"Thank you so much to everyone who donated a prize, it's so generous, especially as it was all do off-the-cuff," Davies said. "What a great way to end what has been, at best, a bizarre and challenging year."
You can hear Tim Nash from Wild VC talking about creating fantastic retail experiences on a recent episode of The kbbreview Podcast. Listen using the player below or search 'kbbreview' in your podcast app of choice.