Obsidian Interiors already does kitchens and bathrooms and has moved into homewares with plans to take the whole-house concept further. Chris Frankland finds out more from showrooms manager Alison Evans
Kbbreview has published many a feature advising retailers to look at add-on sales and Obsidian Interiors, already a well-established local kitchen and bathroom retailer, decided in September 2020 to do just that and branch out into 'homeware' products that would complement its offering.
So I went down to see showrooms manager Alison Evans to talk to her about the Obsidian business and this new string to its bow.
Obsidian Interiors certainly impresses with its Cheltenham showroom, with an imposing and stylish exterior and entrance, which opens out to an even more impressive interior. As soon as you enter you see the large, sweeping feature staircase that transports you up to the kitchen displays on the first floor. Bathrooms are on the ground floor. This 2,700sq ft store has an airy feel and its stylish displays announce to visitors that they are dealing with a retailer that will provide them with a well-designed, quality kitchen or bathroom – and by wandering around they will find plenty of inspiration.
I am greeted at reception and directed to where I will find Alison Evans on the first floor.
We sit down for a coffee and our interview in the consultation area adjacent to a large tile display. Evans is manager for both showrooms. In addition to Cheltenham, which opened in 2001, there is also a smaller (1,600sq ft) showroom in Bourton-on-the-Water, around 10 miles to the east, which opened in 2006.
Obsidian Interiors is part of family-run Bence builders merchants, which was set up in 1854 and is still run by the Bence family, with MD Paul currently at the helm. Bence claims to be the leading independent builders merchant in Gloucestershire.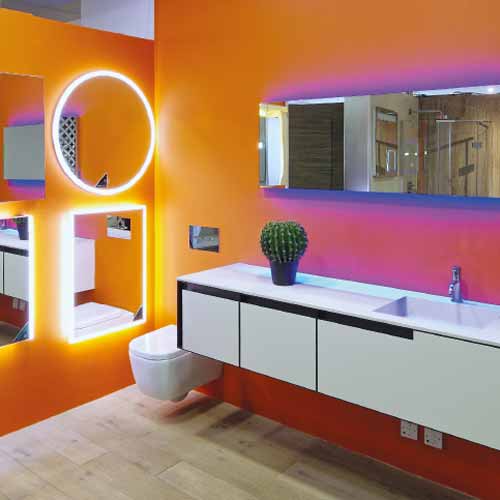 The Cheltenham showroom has around 40 bathroom displays and 10 kitchen displays in a variety of styles from contemporary to traditional. The business turns over around £3 million and sales are split around 60% bathrooms to 40% kitchens.
Before finding out more about the new Obsidian Home venture, I ask Evans why did Bence branch out into kitchens and bathrooms?
"MD Paul Bence wanted to make the business more client-focused as there was a lack of kitchen and bathroom showrooms in Cheltenham," Evans explains. "He also wanted to bring a more luxurious portfolio to the area." Niche
So what is the story behind Obsidian Home? "The Obsidian Home brand came about because Bence felt that it could sell niche products that would complement the kitchens and bathrooms," Evans elaborates. "That was launched in September 2020. That is just a small part of our plan, and it complements our kitchens and bathrooms offer, but in the future we will taking it a step further, offering all of the elements that people would accessorise their homes with.
"Home now offers a small selection of niche products for the kitchen, bathroom and outside – knick-knacks. Bottle openers, tea towels, bags, mugs, tea strainers, candles, etc. All of the things in fact that we might use to prop our displays in the showroom."
And Evans's background was in interior design, as she explains: "My background, and that of a couple of our other bathroom designers, was in interior design. And these days, we are having to do a lot more for the client, and so we are using our skills to become a one-stop-shop.
"And having the Bence business behind us is a positive. They have the slabs, timber, windows, ironmongery and roofing, so we can cater for it all. There is nothing we can't supply for a project. The majority of the time, we will be working with the client's architects and builders, especially on new-builds or renovations."
Evans tells me that their target market segment is middle to premium, with the average bathroom sale being £10,000 up to a maximum of around £50,000, while for kitchens it is a £25,000 average, ranging up to £120,000. Obsidian sells around six kitchens a month and 30 bathrooms. Typical customers are aged 30 and above and many live on the outskirts of London and have second homes in The Cotswolds. She adds that at the time of my visit they are working with two or three clients that live overseas and are buying properties in Cheltenham Spa as holiday homes. They have also picked up a few jobs in Birmingham and Bristol, which also have easy rail links to Cheltenham.
Customers tend to find Obsidian Interiors by word of mouth and recommendation, with leads also generated from its website. And many traders who use Bence builders merchants also put clients their way.
Obsidian offers a full design service for kitchens and bathrooms. They have two kitchen designers and two bathroom designers in the Cheltenham Spa showroom and one of each in Bourton-on-the-Water. They do not employ their own installers, but have three teams of subcontractors for bathrooms and two for kitchens.
In the past, explains Evans, Obsidian used to offer a free design service. But if you look on its website, you will see that it now openly sets out how much it charges for that. With many showrooms choosing not to charge for design, I ask Evans if it is maybe quite daring to openly advertise a scale of charges online.
She replies: "We are doing a lot of complex projects now, where we are having to do lighting plans and technical specifications, project-manage them constantly and work with and organise builders, electricians and plumbers. We are now interior designers/architects. And with the rise in open-plan living, you are having to take on the whole thing, combining the kitchen/dining area with the outside space. And more people are wanting walk-in larders and home offices, bar areas, walk-in wine cellars, inside/outside barbecue areas.
"In the past, we used to offer a free design service and people took advantage of that. But people are coming to us now for 10 rooms, not just one. And we are not having to do just a plan, concept and supply the products, they want us to work with their builders, look at the lighting, the tiling, the soft furnishing – the whole concept. That is more what an interior designer would do and charge a daily rate for. If you just hand over your designs, they can buy the products online. Then who pays for our time?"
Evans says how she has found that, especially since lockdown, clients are all very much individual in what they are looking for and so they always try to get to know them first, before they can come up with a design concept to match their requirements.
And why not charge for design when you are a recognised design talent? Indeed, Evans has been a finalist for such prestigious awards as kbbreview's Retail & Design Awards 2021, where she was shortlisted for Bathroom Designer of the Year: Project Cost £10,000 to £25,000.
Style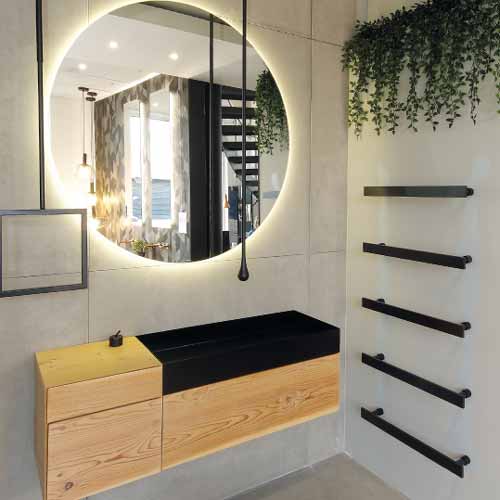 In terms of the styles that are popular with Obsidian's clients, Evans explains that it is pretty much a 50:50 split between traditional and contemporary, for both kitchens and bathrooms. She adds that they tend to "mix it up a bit" these days and that a lot of the classic kitchens have gone more 'industrial'. And in many modern and ultra-modern bathroom designs, they find that they are adding traditional touches with brassware, tiles and basins.
Product-wise, for kitchens Obsidian deals with Rotpunkt, Sheraton and its own-brand completely bespoke brand made by a local cabinetmaker. Appliances are from Sub-Zero, Wolf, Neff, Bosch and Siemens.
For bathrooms it stocks Antonio Lupi, Gessi, Majestic, Duravit, Villeroy and Boch, Finwood, Lefroy Brooks, Imperial, Hansgrohe, Axor and Dornbracht. They also buy from The Water Monopoly in London when people want a specific look – also Drummonds.
Evans confides: "Going forward, we will be sourcing products more like an interior designer would. Moving away from products that are all over the internet. We need to focus on dealing with products that are exclusive, like Gessi and Antonio Lupi, that you can't buy online – premium brands that offer quality and are a bit different. And maybe have fewer displays but with more suppliers like that."
Atmosphere
When it comes to making sure that the customer experience is top-class, Obsidian has always run a programme of in-store and other customer-focused events.
Evans tells me: "We had one just recently. A James Bond-themed event where we hired the local cinema. We had 190 guests, account customers and retail customers. We also had an event here where we had canapés and a couple of local companies doing cocktails. We have also done ladies' nights where local companies have taken part and had stands within the showroom.
"We have had the KitchenAid chef in who cooked food for everybody and I think that needs to happen more. It creates enticing smells and a bit more of an atmosphere. We did do a lot before lockdown and we are determined to do more, as we have the space to do it. I am all for holding such events."
As for the future, Obsidian Interiors is planning to take the Obsidian Home concept even further.
"We need to extend the brand and get into soft furnishings and take on more products," Evans says.
"Our Obsidian Home brand has taken off well and we are getting good feedback. They are sold online too and we have a little shed in the car park. As the brand grows, and with our plans to revamp the showroom and take it where we need to, we will collaborate more."
Evans concludes: "We will revamp the showroom and work whole house interiors into the mix – soft furnishings, lighting and interior designs. We do lots of whole-house projects now that include those elements and we want those products on show too."