Swiss premium appliance brand V-Zug has shown its commitment to the UK market with the opening of its new studio on London's prestigious Wigmore Street.
Located at 27 Wigmore Street, in a Grade II listed building, the new V-Zug Studio not only serves as the brand's new UK HQ and a place to showcase its range of appliances but also as a creative workspace for architects, designers and retail partners who are invited to bring their customers along to "experience" the brand.
The brand has been working on the launch of a studio in the UK since it re-entered the market in 2020, however, the pandemic delayed its plans.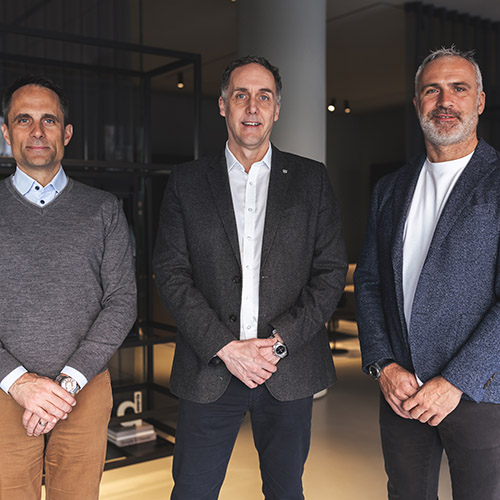 According to the brand, the design and layout of the space portrays the company's ethos of humbleness and transparency and has been designed to look and feel like a living space to create a welcoming atmosphere and to help consumers visualise how the products could look in their own home.
V-Zug's core values of minimalism, simplicity and sustainability are also reflected throughout the new space.)
Speaking about the new studio and its role in the brand's strategy V-Zug UK MD, David Knight (pictured with CEO Pete Spirig (left) and global managing director, Alberto Bertoz (right) said: "The UK is a key market and I have a five-year strategy for the brand here. A massive part of that is having the foundations to support that growth which is why this studio is so important to the brand's future here. The vision for this new V-Zug Studio is to not only create the most prestigious luxury appliance showroom in London, but to create a beautiful and friendly environment where architects, designers and our retail partners – and their clients – can feel inspired and at home with our beautiful brand. Wigmore Street is an iconic location and, for a brand with our positioning, it's exactly where we need to be.
"Our new designer's area is designed to enable designers to use the space, to greet their clients and to feel comfortable to host in the environment themselves. The goal is to create true relationships, and to reflect our global V-Zug culture of humbleness, simplicity, and beauty."