Dream Doors has announced record financial results for 2015, a year that also saw the franchise open 12 new showrooms across the UK and Ireland and unveil a new recruitment and training programme.
The UK's largest kitchen makeover retailer is set to achieve a turnover of £26m for 2015, an increase of more than 21% compared with 2014. Average turnover per franchise also increased to £500,000 this year.
"2015 has been a landmark year for Dream Doors, undoubtedly our best ever," said managing director Troy Tappenden. "The demand for kitchen makeovers continues to grow and we are now recruiting the very best franchisees to really make the most of that opportunity. The quality of our customer service across the network is a real strength and we are all looking ahead to 2016 with optimism that we can have an even better year than this one."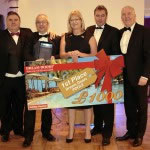 Dream Doors' best performing franchises were also recognised at a gala black-tie awards ceremony at the company's AGM in early December, with Dream Doors Poole winning the Franchisee of the Year. Dream Doors presented more than 180 attendees with its vision and strategy for 2016 and businessman and Falkland's war veteran Simon Weston OBE gave a keynote speech.
"It's been a tremendous year across the network, but our award-winners have demonstrated truly outstanding performance throughout 2015," continued Tappenden.  "The goal for us is to expand our network even further in 2016, reaching 75 showrooms by the end of the year. But what's also important is to ensure our existing franchisees perform even better, by giving them all the support and training they need. With that support already in place, I'm confident 2016 will be another landmark year for Dream Doors."
Pictured top, from left to right: Bill Owen – Director of Franchisees, Simon Weston OBE, Troy Tappenden – Managing Director, Dream Doors.