'Our focus is on being the best in class'
What are the challenges of running a luxury kitchen retail business in the West Midlands? Francesca Seden visits Siematic's new Kitchen Gallery in Birmingham to find out
With its neighbours including Harvey Nicholls, Giorgio Armani and Paul Smith, new Siematic showroom, Kitchen Gallery, is not exactly subtle about where it positions itself in the market.
The luxury retailer, which also sells designer furniture by Walter Knoll and Tom Dixon, as well as appliances by Gaggenau, has just taken up residence in Birmingham's swanky shopping centre, the Mailbox.
When I arrive, I am proudly told that the showroom features a number of 'firsts' for the Siematic brand. Its first private, apartment-style VIP Design Room, where customers, architects and designers can relax while they discuss designs. And its first showroom, so it's believed, to be located in a high-end shopping mall.
This latest addition takes Kitchen Gallery's studios to three, joining two others in Stratford-upon-Avon and Solihull, meaning that the brand now has 10,000 square feet of space dedicated to selling the Siematic brand.
At the launch, I met up with Kitchen Gallery chief executive Tahir Mahmood (pictured) to discuss the challenges of running a luxury business and how he'd like to change the industry.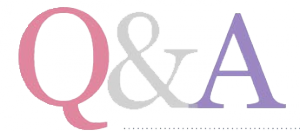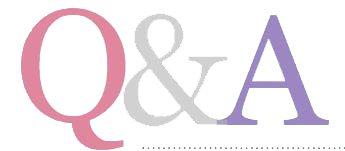 Q: Tell me about your approach to, and relationship with, customers at this end of the market. How do you meet their expectations? What are the challenges? How do you help them achieve their dreams?
A: At the luxury end of the market, creating a kitchen concept is about understanding your client's lifestyle, and creating a wonderful kitchen that fits perfectly with that lifestyle. We have to understand the environment they live in and their expectations, as well as being exceptional designers, articulate and knowledgeable.
We undertake a lot of training to assist all members of our team to achieve this level of expertise, and we also follow what is trending in interiors around the world. We may be operating out of the UK, but we follow what is happening in cities such as New York, Dubai and Shanghai, because it is highly relevant to a proportion of our clients, who may spend time there, work there or even have a home there.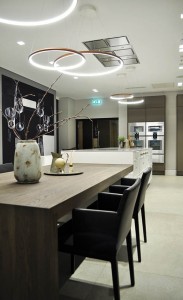 Q: How's business?
A: Our focus is on growing market share at the luxury end of the market, and we are on course to do that again this year. So we are very happy with the way our business is progressing. I am comfortable with our retail offer and it is going to plan. We are looking to invest and grow our contract division – which in the past two years has seen very good growth.
Q: How important is Birmingham for the luxury kitchen and bathroom markets and why? What impact do you think the new HS2 rail link in Birmingham will have on business?
A: Birmingham and the Mailbox are extremely important for the luxury markets. Outside of London, there are more millionaires in Birmingham and the West Midlands than anywhere else in the UK. Added to that, the Mailbox also caters for a global audience. The arrival of HS2 will, of course, have an impact on our type of business as it brings the London market much closer. Also, the relocation to Birmingham of some large and important companies means we will have more individuals with high disposable income. Personally, I believe Birmingham has a very bright future and we hope we can maximise the opportunities in the coming years.
Q: What are your feelings on charging for design? Do you think consumers should have to pay design fees? Many designers believe that their profession is undermined by not being able to charge. Is this something you agree with?
A: I believe that the industry should charge for design, particularly at the luxury end of the market. Many of our projects are extremely large and complex, with a huge amount of technical knowledge and design expertise required. In the 'super kitchens' of today, there are a large number of appliances, and there is a high level of complexity in the design process.
There is the requirement to understand ergonomics, as well as being an excellent interior designer. With many clients wanting open-plan living spaces, our design often extends well beyond the traditional kitchen area, and incorporates everything, including furniture and lighting, in the dining area as well. A lot of time is spent creating the best designs for clients, and currently this is done without charging. If the industry as a whole calculated the value of the time and expertise given away, it would be an enormous figure.
Interior designers and architects working outside of the kitchen sector charge fees for their design work, but in our industry, everything from the survey, to the elevations, plans and high-quality computer generated designs, are normally provided to the client without charge.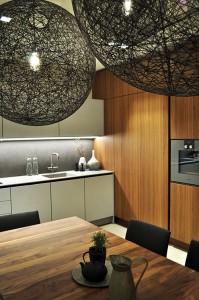 At Kitchen Gallery, we employ interior design graduates, and they receive a high level of training from us and from Siematic. It seems wrong to me that the sector does not accept charging for the design process and I believe the industry should try to do something about this. It's about educating the public on the value of good design. Changing attitudes and practices would be of benefit to the industry as a whole.
Q: Tell me about the Birmingham showroom. What was the thinking behind its design?
A: Our head in-house designer, Kalun Law, was instrumental in creating the studio, in collaboration with Siematic's team of designers, led by Marc Sporer. It showcases Siematic's three lifestyle collections: Urban, Pure and Classic, with fully functioning kitchens and smart technology for appliances, lighting and entertainment throughout.
The studio has also been designed as an entertainment space, and we will host regular events, such as celebrity chef demonstrations, wine tastings and collaborations with other luxury goods makers, such as watch and jewellery brands. The team will also be linking with local schools to help young people develop an interest in product and interior design. It also features the latest design and presentation technology, with smart TVs and tablets displaying inspirational kitchen designs.
We are proud that we are setting new standards for kitchen design studios. The Mailbox is a premium destination that is perfectly aligned with the Siematic brand and, with the space and facilities available, we hope the showroom will become a focal point for architects, developers, designers and individual clients.
We have been nominated for best shop fit by Retail Week magazine and, as there are so many high-end brands in the Mailbox, we feel this is a tremendous achievement.
Q: What are your plans for the business moving forward? Any plans for showrooms elsewhere?
A: Our focus is on striving for excellence and being the best in class. We will continue to perfect every stage of our clients' experience – from the moment they walk through the door of our showroom to the final completion of their interior space.