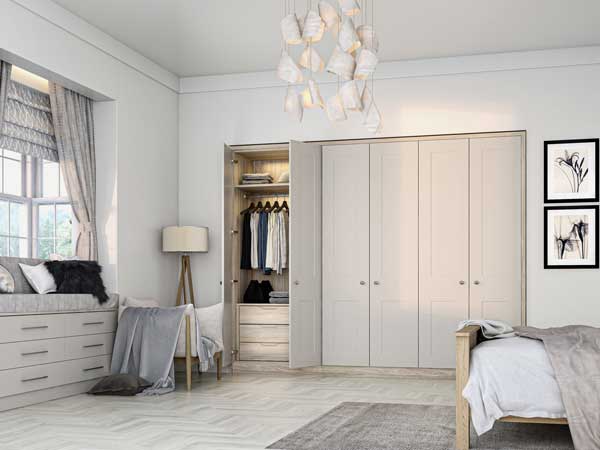 Kitchen, bedroom, and specialist component manufacturer, BA has revealed the latest bedroom trends for the coming 12 months.
Nuala Brady, group marketing manager at BA said, "Given how lifestyles have changed in the last two years, flexible design solutions have really come into their own, becoming a great way to add value in the bedroom and cater to the virtues of hybrid living as more people work from home. As dedicated office space is now a real consideration, 2022-bedroom trends are placing an emphasis on multilateral design schemes that are tailored to both the space and individual.
"If we consider the last two years alone, then the bedroom has become 'all things to all people' and key areas of focus will prioritise well-considered door design and furniture suites, which capitalise on every inch of available storage space."
BA says it has found that sliding doors remain the "front-runners in the lifestyle bedroom", thanks to the space saving qualities. Where a hinged pocket-style door requires enough space to swing open, sliding doors operate sideways, which is "the ideal solution in the compact bedroom."
Another practical solution is the bi-fold door. BA says this style is regarded in the bedroom as a low maintenance solution that provides easy access to the full width of the closet with half the floor space, especially when compared to a hinged door arrangement.
Full-height wardrobes are also dominating the bedroom market, BA has found. With the addition of both single and double hanging space that caters to all types of clothing, combination furniture designs that accommodate 'his and her' storage is on the rise.
The company also found a new consumer appetite for the 'blended space', which is taking elements from both contemporary and traditional interior styles to create one complete look. BA cites examples like the slab door usually associated with contemporary bedroom schemes now being paired with classic wood finishes and decorative hardware.
Also, it notes a desire for opposing furniture styles in the same scheme where different doors like slab and in-frame are now coming together.
For colours and finishes, BA is seeing a continued trend for a neutral palette in the bedroom. Classics such as white, light grey, and blonde woods are being paired with subtle pastel shades like blush pink and denim blue.