Disposing of commercial waste is a problem that faces all KBB retailers. Retail consultant Toby Griffin finds out how most retailers dispose of their waste and spells out which methods are the most environmentally friendly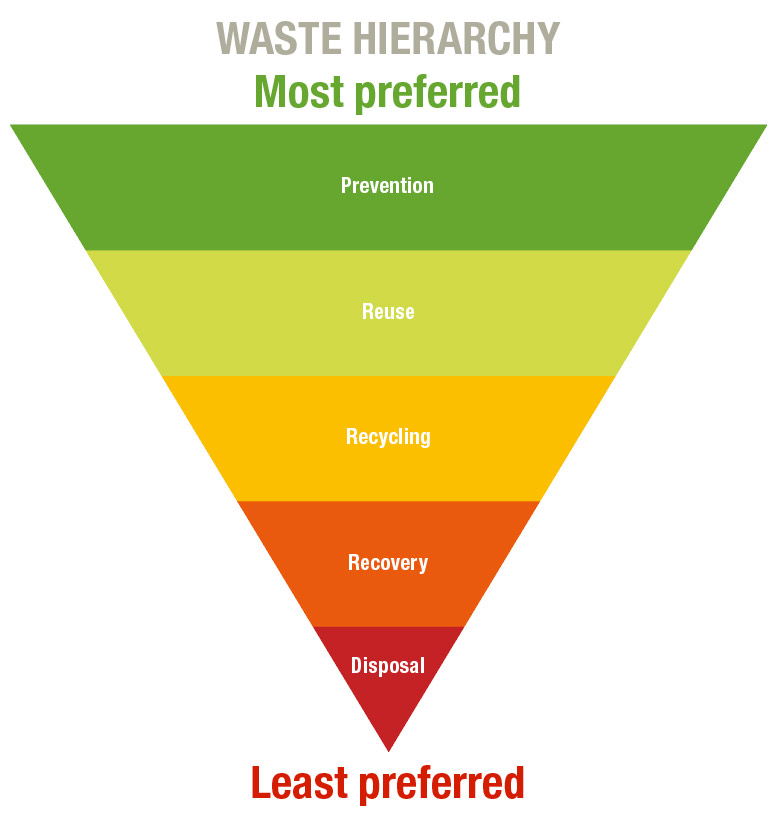 I wanted to see what the preferred method of waste removal was across the country's KBB retailers, so I held a poll on LinkedIn which showed that 68% use skips, 20% use rubbish collections, and the remainder some combination of the two.
But with inflation going through the roof and the increased cost and complexity of legally compliant waste removal, it is already starting to pay to look away from disposal as the first option, and consider alternatives that may suit both the customer and businesses better.
Some more environmentally-friendly options than skips and waste collection are outlined in the Waste Hierarchy.
For the uninitiated, this is a simple ranking system used for the different waste-management options according to which is the best for the environment. The most preferred option is to prevent waste, and the least preferred choice is disposal in landfill sites.
Let's look at each element of the system, from top to bottom.
Prevention
With the cost of a new kitchen, bedroom or bathroom, you can be pretty sure that your customers will have spent time considering not buying a new one at all. But due to wear and tear, faults, changes in style, or changes in lifestyle, they come to us to make the change, and we don't want to be talking them out of it.
Reuse
According to Scott Marks, MD of kitchen dealer Thehauskollectiv: "Ninety per cent of my clients sell their old kitchens – to a friend or on Facebook – before we get to a property to start an install. A common request is that the fitter reuses the old kitchen and turns it into something usable in the utility room."
Similarly, Mark Conacher, director of Liberty Fitting Services, says: "If it's a decent kitchen, at the survey stage we occasionally suggest they try to sell it via a local ad or social media. We sell it as, even if you get £200, it will save them money on getting rid of it and they've then got a couple of hundred to go towards tiling or whatever. More often than not, they manage to get rid of it."
With a lot of talk about kitchen furniture reuse, what about bathroom products? Although tiles are rarely salvageable – at least economically – the modular nature of bathroom design means that, according to UKE's Helen Lord, "bathrooms are ripe for reuse", and that the reconditioning of sanitaryware is becoming more available and popular.
Recycling
Strangely, recycling is only the third most preferable option when it comes to the waste hierarchy, but it is the most environmentally friendly when the products can't be retained or reused.
As the majority of kitchen furniture and laminate worktops are made from chipboard, MFC, MDF etc, putting them back through the recycling process is not easy, so reuse or disposal generally occurs.
Similarly, quartz and granite worktops are rarely recycled, which begs the question as to why other – recyclable – materials aren't used, such as stainless steel, which is omnipresent in commercial kitchens. According to Paul Berryman, head of group sustainability at the Danesmoor Group: "There's no market for them as customers don't like the fact they quickly look scratched." But added that they are "looking to grind down solid-surface off-cuts, the product of which goes into making roads".
The next big consideration is electrical appliances. According to the Health and Safety Executive, 40% of the estimated two-million tonnes of discarded electronic equipment in the UK is large home appliances.
Can any of you remember the introduction of the WEEE regulations in 2006? Causing a bit of a stir at the time, it's a subject that is hardly mentioned these days, but it is very much still around.
Sustainability expert Comply Direct explains: "The purpose of the WEEE directive was to set targets for the collection, recovery and recycling of waste electrical and electronic equipment across Europe and divert volumes of waste electrical equipment from landfill. The legislation places the onus on producers to be responsible for items when they become waste".
For an industry-perspective, I spoke to Danny Lay, managing director of Caple, who explains: "As the producer, we have to declare how many products we have sold each year, and are charged a recycling levy for each piece, with products like fridges being at a much higher cost than other appliances."
On the subject of bathrooms, it is possible to recycle ceramics, but not easy. It's a similar story concerning the tempered glass of shower screens, which can be recycled, but not along with normal glass, because of the higher temperature needed for it to liquefy. Also, when it comes to most baths, many shower trays and basins, specialists Plastic Expert says: "The limited availability of effective and ethical acrylic recycling facilities has prevented many organisations from doing so."
All in all, it seems recycling bathroom products is a tricky proposition.
In the case of large volumes of packaging though, some materials actually have an unexpected 'scrap value', with the Danesmoor Group's Berryman telling me: "Cardboard and clear polythene is bailed, taken away, and then we are paid for it."
At Buster and Punch, head of kitchen division Fraser Murray says they take this one step further. "We unwrap all the products at our factory and recycle the single-use packaging. The kitchen is then disassembled and wrapped in Buster and Punch-branded, multiuse packaging."
Recovery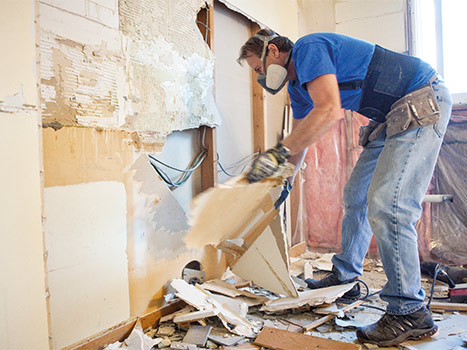 For waste that we can't recycle, it may be possible to recover energy in the form of the so-called 'waste to energy', which is the process of incinerating non-recyclable waste to produce heat or electricity. Most factories that I have visited in recent years use this method to a greater or lesser extent.
Disposal
So, at the end of the road is landfill, where here in the UK, it is highly taxed by the Government to help promote the more sustainable methods in the waste hierarchy.
The landfill tax seems to have brought both the intended consequences and an unintended one; with a National Audit Office spokesman saying in April: "The rise in landfill tax saw the amount of waste sent to landfill reduce by 75% between 2010/11 and 2020/21. At the same time, there has been an increase in the money criminals can make by avoiding landfill tax through the mis-description of waste, illegal waste sites, and some types of fly-tipping."
Both Liberty Fittings' Mark Conacher, and Luke Wedgbury, CEO of Coalville Kitchens, agree about their customers' attitude towards waste, with Conacher stating: "The majority of customers don't ask about the waste and are more interested in how quickly you can get rid of it". Similarly, Wedgbury similarly says: "in all honesty, our core base of clients don't want the hassle and just want it gone."