Despite uncertain times for the market LochAnna Kitchens, has just invested in a dedicated trade showroom. Rebecca Nottingham went to meet MD Paul Jenkinson and kitchen category manager, Sinead Trainor, at the LochAnna Design Centre in Bolton, to find out how this resource will support retailers and help grow the business
Crudely speaking, businesses reacted in two ways to Covid. Some, unsurprisingly, chose to batten down the hatches while the cloud of uncertainty moved over. Others used the boost from the serious sales highs of the lockdowns as a driver of change, leading them to invest to sustain the growth. One business that falls firmly in the invest-to-grow category is Faith Furniture, the company behind the LochAnna Kitchens brand.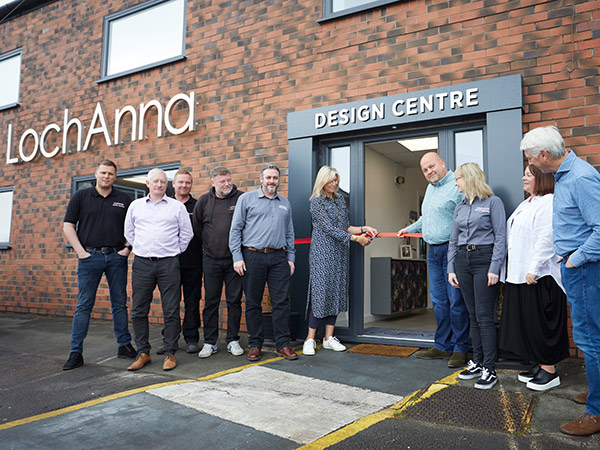 Earlier this year, it opened the doors to its 4,500sq ft, Design Centre – a trade showroom located less than a mile from the company's Bolton HQ – a move that signifies more than £150,000 investment.
Described as the beginning of a new chapter in the company's growth and investment story, the project was born from its success at kbb Birmingham 2020 – which, says company founder and MD Paul Jenkinson (pictured), generated huge interest from a wider base of independent retailers.
"The business is in its eighth year now and we felt it was time to create a permanent presentation space for our LochAnna Form and Evo collections and a training hub that would support our trade partners all year round," explains MD Paul Jenkinson.
"It's a showroom for our independent trade partners that they can use for inspiration and as a selling tool, but also something that really cements what our business is all about and what makes us tick.
"We want the space to excite new and current retail partners and make them feel great about working with us."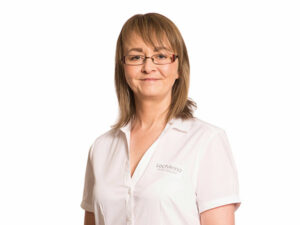 Sinead Trainor (pictured), kitchen category manager, reveals the thinking behind the design and layout of the LochAnna Design Centre and the company's design ethos
Each display has been designed in discussion with our sales team, as they not only understand kitchens and kitchen design, but also what our retailers are actually designing and selling – and that is key to our overall design and innovation story.
The downstairs area has been designed as a presentation suite for us to host sales meetings with our clients, but our trade partners can also use it to show their clients round. Our trade kitchen collection – Evo – is also downstairs. This was launched in 2017, when it became clear that some of our retailers wanted a kitchen from us to hit a certain price point. What we didn't want to do was bring out a cheaper range that compromised on quality, so we use the exact same cabinet that we use for our LochAnna ranges, but we team it with doors sourced direct from our suppliers, which we buy in big volume and that's what keeps the cost down. Evo is about speed, about quality and about price, whereas the LochAnna brand is about innovation, choice and design.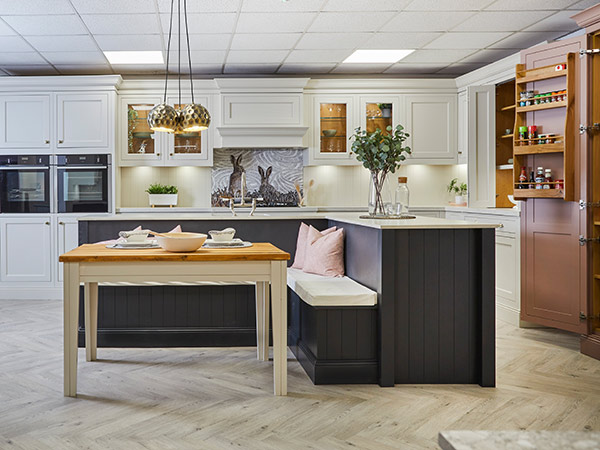 Upstairs is our main showcase for Form and LochAnna ranges. As the showroom is designed to inspire our trade partners and their customers, we've tried to include a variety of product to show the depth and breadth of our ranges. An example is our boot room display. This is made using one of our standard ranges to inspire retailers to think outside of the box with our product.
In everything we do, every design we create, we always try to make it all very practical and functional. We listen to our trade customers' feedback and really think about how people use their kitchens. Every time we innovate, we're looking to fix problems that retailers might come up against in a real design situation. We offer a versatile range, with lots of choice and flexibility and we also try to educate retailers on every aspect of the entire portfolio and give them ideas as to what they can really achieve with the variety of features.
We've included some real statement displays in the studio, because we want to encourage our retailers to be bold in their own showrooms – every showroom needs one or two of these to get the conversation moving and ideas flowing.
When we develop new products, we consider how real people use real kitchens and we have created displays that really show that, while also demonstrating what different looks and solutions designers can create with our products. The business structure is such that the management team has constant open conversations with our core partners about design and that's how the portfolio evolves.