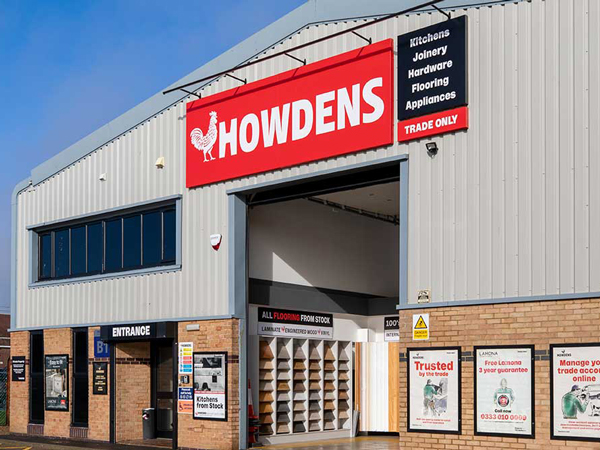 In its half-year results, Howdens has revealed that it's not just back to pre-covid levels, it's gone 40% beyond them.
Howden Joinery Group posted a total revenue of £913.1 million, which is 16.3% ahead of last year and 39.9% ahead of pre-Covid levels in 2019.
The group's pre-tax profit of £145.0m is up 21.6% on 2021 and 85.7% on 2019, with profits outpacing revenue growth. UK revenue is 16.4% (£889.3m) up on last year and 13.5% ahead on a same depot (LFL) basis.
Howdens has continued to invest in strategic initiatives, bringing forward investment in projects into 2022 with capital expenditure (capex) guidance for the current year increased by £20m to £130m. The company opened 10 new depots and revamped 34 older depots in the UK, with seven new depots in France and one in the Republic of Ireland.
Andrew Livingston, Howdens chief executive said: "Howdens delivered a strong financial performance in the first half, well ahead of pre-Covid levels in 2019, as we continued to manage effectively ongoing inflationary and supply chain pressures.
"Our sector leading service and well-established and focused growth strategy ensured we continued to outperform the market. Our kitchen and joinery markets are large and attractive, and we are prioritising investment in future growth through execution of our strategic initiatives.
"Howdens has good momentum going into the second half of the year which includes our all-important peak trading period. We will continue to manage inflationary pressures according to market conditions to achieve the right balance between pricing and volume. We are confident in our resilient business model while recognising that we will be trading against record revenue comparatives. While watchful of market conditions and consumer sentiment, the group remains on track with its outlook for the full year."
Howdens launched 19 new kitchen ranges in the first half of 2022, which it says has more emphasis on higher priced kitchen ranges. The business operates with 788 UK depots, 42 in France and Belgium and one in Republic of Ireland.