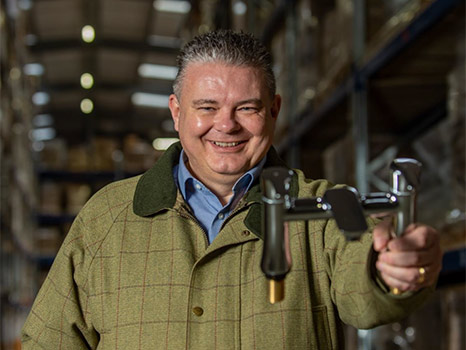 'Internet retailers have overheads too'
In light of new rules that say brands can sell to online retailers at a higher price to help protect showrooms, James Hickman, Plumbworld's CEO, explains internet retailers have to invest in their businesses in ways that aren't always so visible.
As CEO of one of the UK's leading online bathroom retailers, Plumbworld, I would like to correct some of the commonly held misconceptions about online retailers.
There is a persistent myth that showrooms invest more in brands than online retailers.
Physical showroom operators make this error, because they only see their investment: stock on display, sales assistants and retail rents. The online retailer's investment is not so easily visible to them, but is just as real.
It consists of holding large amounts of branded product stock for next-day delivery, staffing call centres with trained sales and customer services staff, rent for warehouses and offices, huge online advertising spends and the costs of graphic designers and web developers to maintain a brand's presentation online.
Let's be honest, a couple of shower display boards, or a few bathroom bays in a tired showroom in a sub-prime retail location is, not really doing much to support the brand.
Holding millions of pounds worth of stock to ensure consumers can get next day delivery and spending hundreds of thousands on Pay Per Click advertising, on the other hand, really does support the brand.
Another persistent myth is that people research in showrooms and then buy online. We surveyed everyone who had bought a shower from us and over 96% had never seen the physical product, or been to a showroom, prior to their purchase. We also sell over £40 million of house-brand products every year, which are only available online. These cannot be seen in a showroom anywhere. Modern consumers are quite happy to buy bathroom products from the internet, based on good descriptions, images and strong presentation of features and benefits.
Increasingly, the real success or failure of a brand depends on how well it competes when consumers do their research online. Some consumers will ultimately feel more comfortable completing the transaction with a physical store close to them, but increasingly brand preference is established through online research.
Online stores are where this research takes place, with consumer reviews and extensive product information being key factors in forming brand preference. Consumers don't trust the websites of the major brands because they are always going to promote their own products. Online retailers provide a more unbiased set of information across multiple competing brands. The brands the online retailer supports and promotes to the consumer are, more often than not, the ones they eventually buy.
In your recent piece on changes to competition law [kbbreview, May, page 29], it stated: "Going forward, distributors and retailers who feel they have been disadvantaged by the pricing applied by manufacturers and suppliers may seek to complain to the CMA or EU Commission, arguing that the price differential fails to properly reflect the difference in investments made or costs incurred in both the in-store and online channels."
Far from signalling the beginning of the end for the internet bathroom retailers, is this perhaps the final nail in the coffin of the traditional independent showroom?
The independent showroom operator may not want to hear it, but their investment is a tiny drop in the ocean compared with large, online retailers.
These online retailers now have the opportunity to complain to the CMA if they are not given significantly lower prices from manufacturers. They are legally entitled to better prices to adequately reflect the larger investments they make in supporting brands compared with that of smaller-scale physical showrooms.
For showrooms to survive, they need to stop looking for the law to hold back the march of progress and face the new reality, that buying products online is now the default for an increasing majority of people.
Of course, it is distressing when the business model that you have relied upon for decades is suddenly disrupted by new technology. Horse and cart manufacturers were no doubt distressed by the introduction of the motor car. The only choice in these difficult circumstances is to evolve or die. Wishing the internet would go away, or that lawyers on white horses will ride to the rescue, is not a realistic strategy.
The online business model is hugely successful because it is very efficient at selling and distributing products. This allows online businesses to grow significantly, achieving large economies of scale.
There is still a role for showrooms, but they need to move away from trying to sell standard products at the lowest price and focus on adding real value in the areas where online retailers can't compete. A showroom that offers a brilliant design service and a well-managed installation experience has nothing to fear from an online retailer.