Installers around the country are feeling the pinch of rising costs. The director of Eureka! Research, Dave Ruston, asks what KBB businesses can do to help them as we face an uncertain future.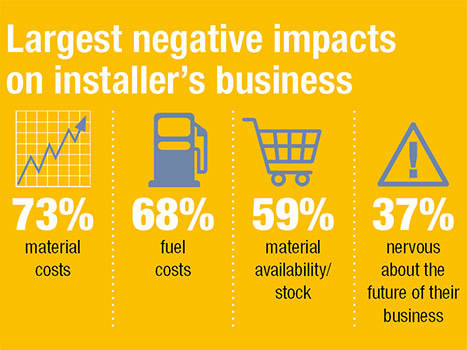 Our installers and fitters have always been at the coalface. Up and down the country, in customers' homes, having a coffee and a natter, and generally taking the pulse of the great British public. If they detect a big change in the air, then we would all be wise enough to listen.
At the beginning of the summer, kbbreview reported on our new research highlighting the mounting price pressure on tradespeople and particularly the difficulties firms have been facing managing material cost inflation. In fact, 75% of trades said that the rising cost of heavy- and light-side materials is having a negative impact on their business.
Even more alarmingly, we found that more than three-quarters of tradespeople are now concerned about the general cost-of-living crisis on consumer spending in relation to demand for home improvements. With a dwindling order book of just 2.8 months, the average installer is starting to wonder what might be just around the corner.
And let's not forget the impact of fuel price rises on our tradespeople. Over eight in 10 installers were concerned about rising fuel prices at the start of the summer – with four in 10 being extremely concerned about the impact on their business. In just a matter of weeks, average pump prices for diesel have risen to around £2 a litre with still no sign of any meaningful intervention from policymakers.
It's not as simple as passing these costs on to the paying customer. That can be the difference between winning the job or losing it. With such an uncertain future facing the industry, installers told us that they are looking to make adjustments to how they work. In the interests of maintaining relationships with the best fitters, both retailers and brands need to seriously reflect on these trends and give consideration to how it might affect their operating models.
Across the board, installers told us they intend to be more selective about the jobs they quote for and generally become more streamlined. Four in 10 will quote on jobs closer to where they live in order to cut down on driving, and one-third want supplies sent to the job, so that they significantly reduce the number of journeys they make to the merchant or showroom.
Let's not dismiss how challenging the past few years have been overall. The post-Covid boom in home improvements placed an enormous strain on both the supply chain and those striving to keep up with consumer demand.
Our research from last year highlighted issues for installers who were 'chasing the buck', and the high impact of this stress on their mental health and well-being. In fact, we estimated that 75,000 small trade businesses were potentially suffering from a mental health-related issue.
But the pandemic wasn't just a bad news story. Almost a third (30%) of installers we interviewed told us that, despite buoyant demand for their services, the experience was making them strive to improve their work/life balance. This emerging trend has since come out in our focus groups with those on the tools.
Moving forward
Our research challenges some of the orthodoxies, the preconceived assumptions that tradespeople don't want to adapt and are generally 'stuck in their ways'. More than half (55%) expressed interest in industry support with a sustainability slant. This includes retraining in lower-carbon technologies, becoming more knowledgeable about future 'green' products and advice on electric vehicles (EV).
In the long term, migrating more of our sole traders and small businesses on to electric vans will be the way forward. Currently, we estimate only 5% have an EV in their trade business. It may feel light years away for many installers, but the change will come and could lead to some uncomfortable questions about using charging points. At the retailer? Even at the customer's home?
Perhaps now is the time for retailers and showrooms to start considering their own responsibilities. Are we assessing how future-proof all our businesses are – exploring charging stations for both customers and installers, for instance? Could this provide your business with a point of difference?
Installers and fitters were on their own frontline during the pandemic. How many times did we stop to ask them whether there was anything else wecould put into place to support them? Now,
the very least we can do is offer a sympathetic ear.