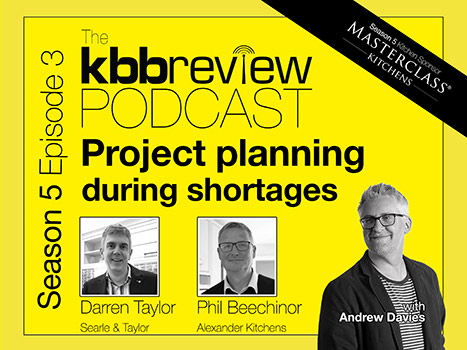 Welcome to the kbbreview Podcast, this is episode 3 of season 5 and your host as always is Andy Davies.
This week we're looking at project planning – in normal times (remember them?) experienced retailers could do this stuff standing on their head, it's about as core as it gets to running a successful KBB business.
But Covid and all the subsequent product shortages have meant that the usual smooth plans have been thrown up in the air and retailers now must constantly juggle when jobs can be done and when they might be finished, if they are at all.
Showrooms are full of empty slots where ovens and coffee machines should be as they're robbing Peter to pay Paul just to get a kitchen over the line.
And, of course, they have to all that while managing the expectations of the customer all the way through.
We've got kbbreview editor Rebecca Nottingham chatting to two very experienced retailer Darren Taylor of Searle & Taylor and Phil Beechinor of Alexander.
Once again, a massive huge thank you to our very good friends at Masterclass for being our Season Five Kitchen Sponsor, as many of you will know, they are a proudly British manufacturer of quality kitchen furniture, offering an amazing range of unique products for over 45 years. To find out more about you can become part of the Masterclass family go to masterclasskitchens.co.uk/hello-studios