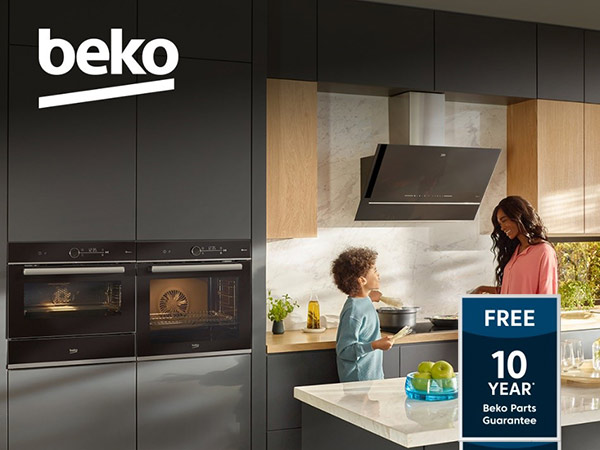 Appliance giant Beko has announced that it is now offering a 10-year parts guarantee to help give consumers peace of mind and encourage repairs rather than repurchasing.
Consumers are now able to register selected Beko appliances for the new 10-year parts guarantee in addition to any one- or two-year labour guarantees their products are eligible for.
Beko says this reflects the confidence it has in the durability and quality of its appliances and that this will bring consumers added peace of mind when purchasing home appliances.
And in light of recently introduced Right to Repair laws in the EU, which we have also adopted in the UK, this move from Beko gives customers access to free parts to repair registered products. This, it says, will help minimise appliance waste and encourage owners to repair their existing appliance rather than buy a new one.
To help support the new warranty offer, Beko has unveiled a new product registration page on its website, which will also help consumers identify which guarantee they are eligible for.
Retailers will have access to POS and marketing materials to help promote the new 10-year parts guarantee, while Beko says it will promote the guarantee through social media, targeted email marketing and a media campaign.
Commenting on the new guarantee, Vijay Bhardwaj, marketing director for Beko UK and Ireland, said: "We're incredibly proud to launch our 10 Year Parts Guarantee. In a time where the cost of living continues to rise, we are delighted to be able to provide such a strong parts guarantee to our consumers, creating increased consumer confidence in quality and durability of Beko appliances."