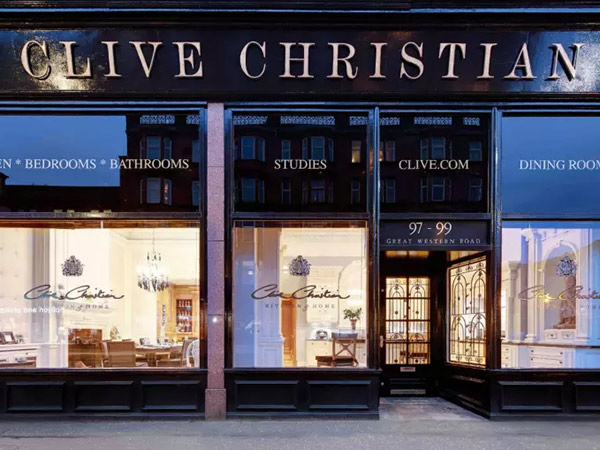 The Great Western Road in Glasgow, a hub for kitchen retail, has been named the third coolest street in the world by Time Out Magazine.
In a survey of 20,000 people, Time Out found the 33 coolest streets in the world by looking at food, fun, culture and community markers. The top three streets are Rue Wellington in Montreal, Gertrude Street in Melbourne and Great Western Road in Glasgow.
The 18-mile-long Great Western Road starts by the inner ring road of Glasgow city centre and runs to the north-western outskirts of the city. Many high-end and well-respected kitchen retailers occupy the first quarter mile of the road. These include Clive Christian, Kitchens International, SieMatic by LD, Kitchens International, Kuechen Harmonie, Ashley Ann, Kitchen Architect and Gideon Robinson Kitchens. Plus, the road also includes showrooms from national brands like Magnet.
David Harrison, managing director of Clive Christian Scotland, spoke to kbbreview about how the street has become a hub for kitchen retail and a cool street to visit. Clive Christian has been on the street since 1999, and its customers are all over Glasgow. 
Harrison said: "When we moved here, this was not even an up-and-coming area, but we have seen that good brands attract other brands, and it has become a real mecca for Kitchen studios over time.
"This brings more people into the area and thereby puts us in front of people who may otherwise not have considered us. There are perceptions out there about what we do and do not do, but this helps us to show the potential of what we can do to a brand-new audience."
Harrison commented about the Time Out Article: "This can only be great for the area which has seen massive change over the last 10 or 15 years. Some great eateries have opened, and some great boutiques and shops have also opened. It increases the desirability of the area and draws people in. Plus, it's fun to meet like-minded people, be they competitors in the market or not."
Time Out described the street: "When the sun sets down the tree-lined barrel of Great Western Road in summertime, it feels like anything is possible. Glasgow's historic western approach road cuts a nearly 18-mile-long straight line all the way from the edge of the Trossachs to the city centre.
"But it's the top bit between St George's Cross and the Botanic Gardens – abuzz morning through night with all from latte-sipping mums and dads to students and full-on hipsters – where all the good stuff happens."