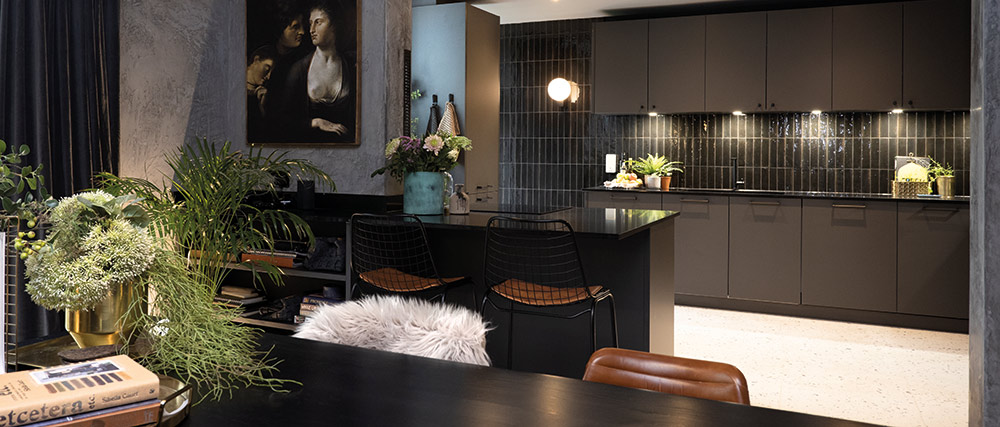 Case Study: Dark, daring, luxurious and elegant
With clients who were keen to push the boundaries and create a kitchen that was daring and dramatic but welcoming, Nick McNally of Kitchens by Nick McNally rose to the challenge
It is not often that you get to work with clients who like to push the boundaries but when you do, it is about pulling out all the stops, as Nick McNally did here.
The structural wall between the existing dining space and separate kitchen was taken down to create a single open-plan living space. This allows the kitchen to flow into the dining area. A carefully positioned peninsula now provides an informal seating area for socialising and dining.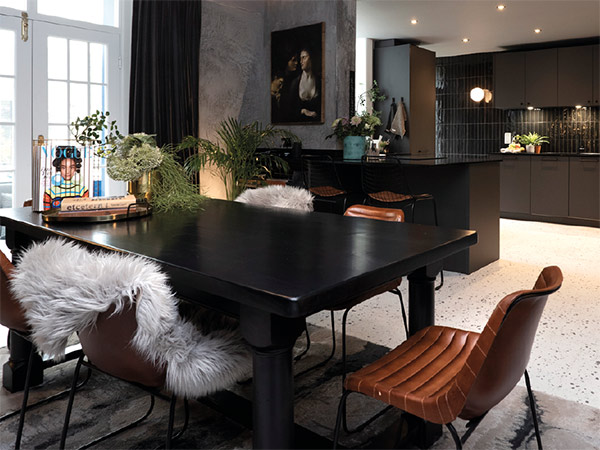 Particular attention was paid to the décor finishes throughout the project with the walls traditionally hand-rendered and polished, adding texture to the room. The client also selected light terrazzo floor tiles in a bid to offset the dark tones used throughout the rest of the space.
It was important to maintain a balance between the contemporary, grey kitchen style and the carefully considered interior details. Muted darker tones were chosen to complement the overall look with black knurled handles, a black sink and black appliances.
Extraction often poses a challenge and this project was no exception. With the hob situated on the peninsula with oven below, the traditional downdraft method was not an option. This is where thinking outside the box and ingenuity comes into play.
Kitchens by Nick McNally designed a bespoke extraction system that utilised the remaining wall to the side of the hob to conceal ducting connected to a remote fan linked to the outside wall.
Moody does not have to mean sombre and it was important that the overall room did not become too heavy. The clients were keen to add pops of colour and textures throughout, therefore carefully designed areas of shelving have been integrated into the design. This included a bespoke coffee station that allows the clients to display the finest Arabica and Robusta they have to offer.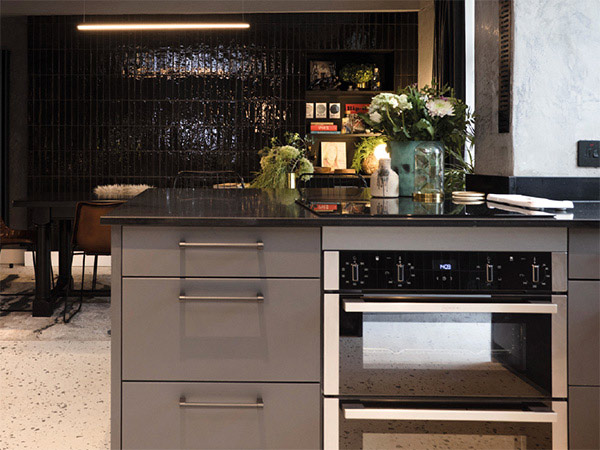 Lighting was paramount here. Not only was this part of the property at basement level, but the dark tones and finishes would rely on a sophisticated lighting scheme to include wall sconces, under cabinet lights and table lamps.
Adding dimmer operation allows the light to be optimised at any time of the day.
The real advantage of using the German kitchen brand Störmer was the complete freedom and flexibility that the brand offers. This, combined with the input from the designers at Kitchens by Nick McNally, resulted in the clients having a truly bespoke kitchen in every detail.
The end result is a space that is not only daring and dramatic but warm and welcoming. The monochromatic tones throughout provide a fantastic backdrop to the nods to nature with the abundance of house plants and warmer tones in the leather seating elements and bijou trinkets throughout.