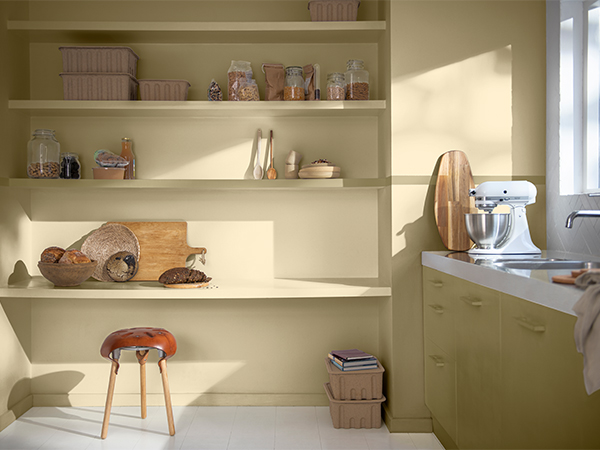 Wild Wonder has been named the 2023 Dulux colour of the year. The shade is said to be a 'positive, glowing tone, inspired by the natural world'.
The colour is a light beige, yellow similar to classic champagne colour. When used in the home, Dulux hopes the shade will bring a 'sense of energy and positivity into your home.'
For the last 20 years, Dulux has been looking at colour forecasts to create the Colour of the Year using a group of trend experts. The team comprises architects, authors, cultural analysts, editors, designers, and technology innovators at AkzoNobel's Global Aesthetic Centre based in Amsterdam.
Previous Colour of the Year included a light blue shade called Bright Skies in 2022 and a neutral brown called Brave Ground in 2021.
For the first time, the Dulux colour of the year has been inspired wholly by Mother Nature. Harvested crops inspired the tone of Wild Wonder with its warm tones that invoke ideas of the harvest and the circle of life.
Dulux predicts that in 2023 people will be focused on balancing their life and prioritising their mental and physical well-being by connecting with nature and has used this prediction to create the shade.
Marianne Shillingford, creative director at Dulux, said: "Wild Wonder speaks to us in a language we instinctively understand. Nature is what inspires us and makes us feel better in our lives and in our homes. That's why, for the first time in 20 years, our entire colour palette is inspired by the rhythms of the natural world."
The new shade comes with four complimentary colour palettes: Lush, Buzz, Raw and Flow. The four combinations show how Wild Wonder can change a room's overall tone and mood, from light and airy blues to adding a pop of colour or complimenting the brown with more neutral shades.
Lush has green and heather tones that are based around wild woodlands. Buzz is inspired by wildflowers and has pink and orange tones. Raw has natural brown shades that are based on tree bark and mushrooms. Finally, Flow reflects the seaside with blues and sandy browns.