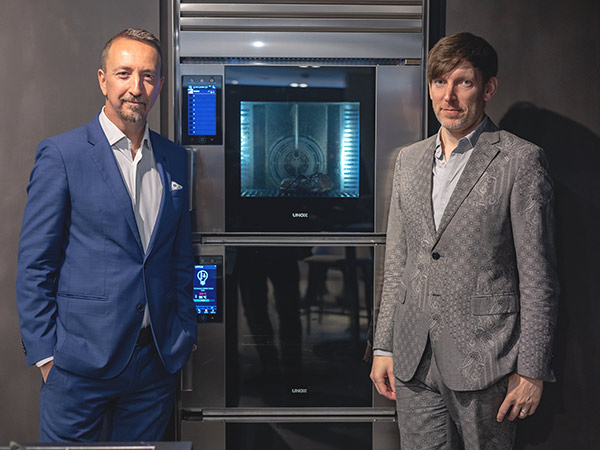 A new brand of oven, Unox Casa, has made its first appearance in the UK at its launch event at Halcyon Interiors in London's Wigmore Street.
The Unox brand was established in Padua, Italy, more than 30 years ago and produces high-performance professional ovens for restaurants and the catering trade.
Unox Casa is a new division set up to bring that state-of-the-art technology to the home market. It offers two models of its SuperOven, the Model 1 and Model 1S that are said to bring to the home user cooking types not available in traditional ovens, such as grilling, frying, vacuum cooking, smoking and dehydrating.
Said Unox Casa director Matteo De Lise: "Targeting discerning clients with sophisticated taste, SuperOven was designed to deliver the performance of the ovens used in the world's best restaurants."
The launch event at the Halcyon Interiors showroom marks the product's first move into the international market, with Unox Casa having been only available in Italy until now.
The event invited retailers from around the UK as part of Unox Casa's drive to recruit kitchen studios to sell the product.
De Lise told kbbreview at the event: "Talking to retailers is so important and that has been going on for some time. This is how we got to know Halcyon Interiors. We are not driven by brand in Italy. We went to each city and selected those kitchen studios where the owner shared the same philosophy of innovation.
"It cannot be sold anywhere, only in selected kitchen studios of the highest level of quality that fully understand the philosophy, uniqueness and excellence behind the Unox Casa brand. We will select only those who are able to display our SuperOven in an inspiring setting that makes its unique features and design stand out."
Unox Casa UK business developmenrt manager Ali Hejrani added: "We will achieve this by partnering with retailers like Halcyon. We don't want to be in every single showroom in the UK. The ovens have to be connected to water and electricity. We want them to be functional. In Italy, retailers often invite VIP customers to events in the showroom and we provide the chef and the food. That has generated a lot of interest and business. We are already in some cookery schools in Hertfordshire and Buckinghamshire and that has generated business."
Unox Casa not only promises users a professional experience at home, but also an impressive aftersales package.
With Unox UK already offering support to its professional clients for the past 15 years, it has established a full service team in the UK. When a customer buys a Unox Casa SuperOven, Unox UK will go to their home and train them on it for an hour. Their staff and chefs in the UK office area then available to answer any questions. And if there is a problem of any kind, Unox promises to be at someone's house within 24 hours.
New customers will also benefit from the brand's Cook Like a Chef programme, which is free for the first three months. This gives access to hundreds of online recipes that can be downloaded to the ovens. And if owners are planning a meal for 10, they can book a consultation with a real chef who will guide them through the menu.
Commenting on why the UK was Unox Casa's first choice for international sales, De Lise said: "We have already made some moves here trying to find the right partners. We got a lot of interest from England at the Furniture Fair [Salone del Mobile] and this consolidated the idea that the UK market really gets it and was willing to endorse the innovation and that it was the right time.
"This is a very strong, design-driven, brand-driven market, which is very competitive. But we like those challenges. We want to prove the concept and London is a good way to strengthen our product. This is our first market outside of Italy and so this is an important step for us. We did a lot of investment in terms of people and getting to know people in the industry and the media."
Commenting on being the first kitchen studio in the UK to take on Unox Casa, Graham Robinson, showroom and design manager at Halcyon Interiors, said: "When we first heard about the SuperOven, it sparked interest because it's something completely different for the domestic kitchen, then after further investigation we felt it was a must to have in the showroom and to be part of the Unox Casa launch."
Unox as a company has doubled its revenue over the past three years and De Lise says it will close this year at close to €270 million. In 2018, turnover was €125m.
De Lise spelt out how it has achieved that, saying: "As everyone else is having problems with supply, finding parts, we have never faced a single issue, because we integrated all the manufacturing and 99% is made within the company. We have just added a new 230,000sq m manufacturing area. Everything, from all the metal and plastic parts to the electronics, is all done within the company. If there is a chip issue at any time, because we have different motherboard designs, we can switch to one where the chip is more available. This kind of flexibility is a big deal. So we can still deliver in eight weeks."