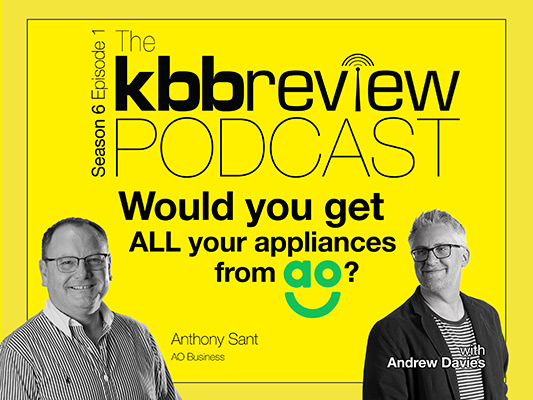 Welcome to The kbbreview Podcast, we're back back for this first episode of Season 6, and in the next ten weeks we'll be running up to Christmas with top guests, big name interviews, industry updates, fun stories, great case studies, in depth analysis, loads of hints and tips to help you run your business better.
Your host as always is Andy Davies and we're afraid you're stuck with him, but don't let that put you off as we've got a great season opener for you.
We've got an exclusive interview with Anthony Sant, he's the managing director of AO Business – now over the last couple of years many of you will have turned to AO with a furrowed desperate sweaty brow to try and fulfil those elusive appliance orders.
However, AO have their eye on the independent kitchen retail market for more than just those very distressed purchases. They want to be a major supplier and distributor, they want you to come to them as a first resort not last.
And you can see why, they have a hugely impressive logistical network, massive warehouses, the latest IT and there's a huge chunk of the appliance market there that they just don't have.
But, as you will hear from Anthony Sant, the USP is not the delivery part, it's that they will take the old appliances away. The retailer's legal responsibility for the removal and safe disposal of electrical waste will soon, Sant says, become an onerous burden for retailers and they will be looking for partners that will take care of it.
Please rate, review and follow us wherever you get your podcasts, and feel free to drop Andy a line – [email protected]
Listen below, on desktop, YouTube, or on your podcast player of choice like Apple Podcasts or Spotify.