'This business model is absolutely bulletproof'

With more than 70 franchise showrooms, Dream Doors has grown to become one of the UK's leading kitchen makeover firms. Rebecca Nottingham headed to the company's HQ in Gosport to meet founder Troy Tappenden and find out why targeting existing kitchen retailers is the next stage of its growth strategy…
Entrepreneur Troy Tappenden, the founder and managing director of kitchen makeover company Dream Doors, always dreamt of starting his own business but even he couldn't have predicted the level of success he'd achieve.
Since he started out 17 years ago, Tappenden has built the Dream Doors business into a flourishing kitchen makeover franchise network with over 70 showrooms across the UK and an annual group turnover of over £33 million. Collectively the network has carried out in excess of 50,000 makeovers and kitchens.
Over the first six months of 2016, Dream Doors saw franchise applications rise to 78 per month – a 50% increase compared with the same period last year.
So, what's helping drive this?
Up until recently, Dream Doors was a franchise opportunity aimed at people with no kitchen experience. However, Tappenden explains why they are now taking a proactive approach towards recruiting people from the industry.
"We haven't targeted people with kitchen experience before because the beauty of the franchise model is that it works for people with or without experience in a specific sector," he explains. "As long as people have the right drive and ambition to make their business successful, our comprehensive training programme and support package gives them the knowledge and skills they need to go out and do the job.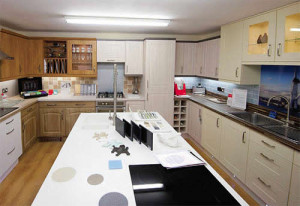 "However, I recognise that people with experience in designing and selling kitchens could really add something special to the Dream Doors network," he adds. "So, we're now actively targeting existing retailers. We're saying 'come and join us' to those existing independents; benefit from our national branding – you don't have to be on your own anymore."
Tappenden initially started Dream Doors as a way of fulfilling his ambition of running his own business and to make himself "good money". Things really took off locally and by 2002 he'd realised the potential for this business model to work all over the UK.
"I didn't personally have the money to open showrooms all over the UK, and, even if I had, logistically it wouldn't have worked," he explains. "I'd been researching franchising opportunities for years, before I even launched Dream Doors.
"Franchising is the clever way to be your own boss. It gives you the opportunity to be self-employed with the support and backing from the franchisor. That's why banks lend heavily to franchisees, because it's a proven model and they have the backing of a brand."
The first Dream Doors franchise operation opened in Southampton in 2002 and it now has an impressive network of 74 franchises across the UK. Average turnover for a Dream Doors showroom currently sits at around £550,000 a year.
Unsurprisingly, given his passion and drive, Tappenden has some serious growth plans in mind for the company over the next two years. His aim is to have
80 franchises by the end of 2016, 90 by the end of 2017 and 100 by the end of 2018.
"There are areas throughout the UK where we're not as well represented as we could be," he says. "For instance, I want more showrooms in Scotland and
I think there are definitely growth opportunities in Northern Ireland and the Republic."
Quality
But, despite those ambitious growth plans, Tappenden insists that, when it comes to choosing franchisees, it's not a case of "making up numbers".
"If my franchisees aren't successful and don't make any money, then neither do I, it's as simple as that," he says candidly. "So it's my job, and my team's job, to help make these people successful. And, part of that is down to choosing the right franchisee.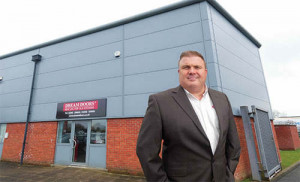 "We're looking for quality franchisees and that's key," he adds. "This isn't a get-rich scheme. We're looking for people with resilience and the ambition to be able to drive their business forward."
Something that must help ensure franchisees fit the Dream Doors mould is the fact that each one must have £75,000 in secured funds to be considered. This, Tappenden explains, is to support the franchisee and ensure that the quality of the
Dream Doors brand is withheld.
The £75,000 includes a start-up fee of £25,000, which covers two weeks' induction training and, according to Tappenden, "everything the franchisee needs to be able to start selling", including design software and door samples. It also includes the costs of setting up a showroom, which, as per the franchise agreement, they must be in within the first six months. The rest, according to Tappenden, is the working capital the franchisees need to get them through their first year of trading.
"The business plan has been developed and finetuned off the back of 17 years of my own experience," he explains. "It would be wrong for them and the brand to consider someone unless they have secured funds of £75,000."
This is all a far cry from where he started out.
"From an early age I had a strong desire to be my own boss and set myself a deadline of having my own business by the time I turned 30," Tappenden recalls.
"I worked at Hampshire County Council for eight years, maintaining street lights, but started researching franchise opportunities during the last three years of my time there, as I was reaching my deadline and had had enough of working for someone else."
In April 1999, while flicking through the pages of the News of the World, he came across an advert calling for people to become franchisees for a kitchen makeover company called Made to Measure Doors.
"The ad said 'cash in on the kitchen boom with madetomeasure door replacements and make up to £2,000 gross margin on each job', which obviously caught my attention," he says. "It didn't work out with Made to Measure Doors, but the experience completely defined my life. I saw the appetite consumers had for kitchen makeovers and replacement door services and had made enough contacts in the kitchen industry, which gave me the inspiration and experience to start
Dream Doors."
The bulk of jobs the Dream Doors network carries out is for replacement doors, which is also likely to include the addition of new worktops, sinks and taps. However, what's quite unique about Dream Doors is that, as well as offering a basic door swap solution, they can also do complete kitchen designs and fits.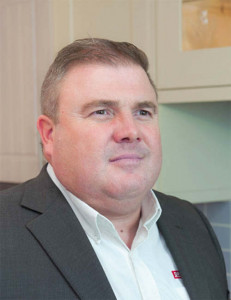 "The common perception of makeover companies is that we just offer a quick and cheap solution," he says. "While makeover jobs, including new doors, new hinges, new handles, new worktops, new sinks, with an average order value of £4,000, do make up 75 to 80% of turnover, around 20 to 25% of business generated by the entire network this year will be for full kitchens. Our biggest order last year was for a £46,000 kitchen sold through our Guildford showroom."
With so many different platforms from which consumers can buy a new kitchen, what demographic are Dream Doors franchises targeting specifically?
"We're here for anyone to buy from us, but our target audience is the 'grey market'," he explains. "Around 90% of our customers are over the age of 50 and 80% are over 60. What they like about us is the speed of installation with a door swap. We're in and out in two days, so there's no fuss, plus, we take a 50% deposit up front and the rest on completion. They like that reassurance.
"The majority of consumers in our target demographic aren't worried about job cuts and many are mortgage free, so they have a lot of disposable income, which makes this business model absolutely bulletproof, through times of recession and non-recession."
Another common perception of kitchen makeover companies is that it's a door-to-door sales style set-up with business conducted in the consumer's home with the help of a few door samples. Come on admit it, you thought that too, didn't you?
While this may still be the case for other companies making a living from kitchen makeovers, for Dream Doors this hasn't been the case for a long time.
During its first year, Dream Doors turned over between £1,500 and £3,000 per week, but it soon became clear to Tappenden that, if he wanted to grow the operation further, he'd need to set down some roots.
"The business was doing well and I was still getting lots of queries but, because they'd had bad experiences in the past, some potential clients were unsure whether they could trust me without a showroom," he recalls. "So, at the back end of 2000, with an investment of £10,000 I opened my first Dream Doors showroom in Gosport."
The following year, Dream Doors achieved turnover of £400,000, proving to Tappenden that even for consumers in the market for a "quick fix" makeover solution, having a showroom they could visit and view the product in could make the difference between choosing Dream Doors or going elsewhere.
"It's the same for any independent retailer, a showroom adds credibility and it has become the foundation of the Dream Doors business," he says. "People want to be able to view the product and to be confident that, if they have a query or a problem they need sorting out, they know where to find the retailer."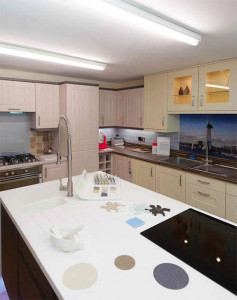 Despite the huge success he's achieved with Dream Doors, Tappenden shows no signs of slowing down.
And, if his plans for growth come to fruition, you can expect to see more Dream Doors showrooms popping up all over the UK.
So, we know what direction Tappenden is aiming to take Dream Doors, but what are his predictions for the future of the industry?
"Now we're out of the recession, there are big things ahead," he says. "I'm predicting massive growth for the industry and I strongly believe that franchising is going to be a massive part of that.
"More and more brands are using that business model in order to develop their presence in the market.
"I believe, if they're thinking strategically, a lot of independents will move down the franchising route because of all the USPs I've outlined."
I know what you're thinking. Tappenden, as the managing director and founder of a business reaping the benefits of franchising, would say that, wouldn't he?
Of course he would, but he isn't the only one suggesting that the franchise model will dominate the KBB industry in the future. Back in March, in a special edition of kbbreview, Malcolm Scott, commercial director of Swift Electrical, claimed that the number of franchise showrooms in the industry would double over the next 10 years. His predictions were fuelled by In-toto's regular recruitment campaigns and brands Mobalpa and Schmidt had announced plans to grow their presence in the UK through franchising.
So maybe the franchising model really is the future for the KBB world?