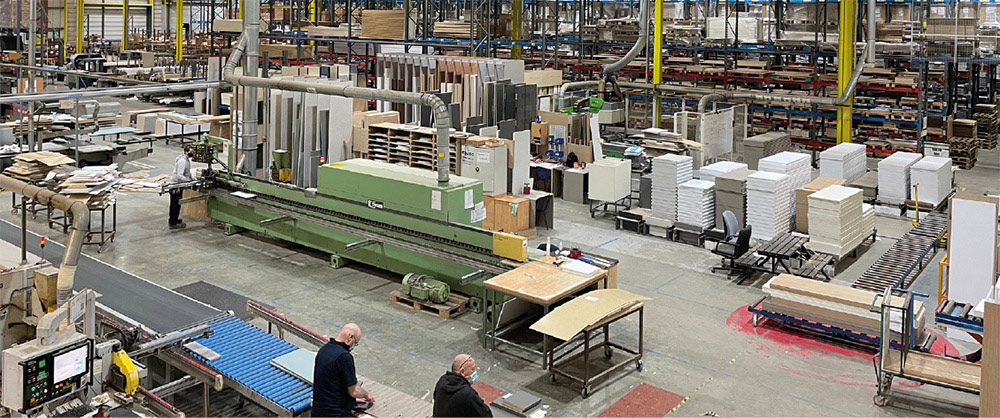 Moores: It's all about relationships
Not only is Moores Furniture 75 years old, but in July it also had its biggest sales month ever. Chris Frankland pays them a visit and talks to group sales director and soon-to-be-CEO Mike Barrett to find out more about its success
Moores has come a long way from the humble hut where George Moore first set up his joinery business in 1947 to its current hi-tech 600,000sq ft factory in Wetherby, West Yorkshire, where it employs 570 people and manufactures 460,000 cabinets a year.
Moores supplies kitchen furniture to private- and pubic-sector house-builders and retail, where it has an exclusive partnership with Homebase.
I ask chief executive-to-be Mike Barrett about the company's record-breaking month for sales in July.
"We saw it across all of our channels," he explains, "Moores for a long time was owned by Masco – a fantastic organisation. Lots of resources and expertise to draw on, and very supportive of the business. But Moores was always quite a small fish in a big pond – they were an $8.5 billion organisation and at the time we were a £50 million a year kitchen manufacturer in Britain. We did the MBO in 2017. The work we'd started prior to that was a journey of redeveloping the business end to end – our product range and service proposition, both in terms of delivery, installation, customer service and design. We started that journey in 2016 and we started to see the early benefits in 2017, but the plan was for fast growth, and we saw that over the next few years.
"I think that what we saw in July 2022 was the impact of all the work that had been going on for so long to grow share in our core markets, coupled with our customer base really getting to a level of output now that post-Covid took some time to recover again."
Turnover for Moores at the time of the management buyout in 2017 was £42m, it hit £60m in 2018 and in 2019 it had its record year of £70m.
But Barrett adds: "It hasn't all been easy though. The world has changed over the past two to three years and we have had to work hard to overcome challenges driven by a tough labour market and rising input costs."
Seventy-five years in business is an achievement for any company. How does Barrett feel about it? "I've been with the business nearly 19 years, most of my working life has been at Moores," he tells kbbreview. "So I have an immense passion and pride for the business. Personally, I am very proud of what the wider management team and all our colleagues have achieved. The company has demonstrated it is a key player in the market."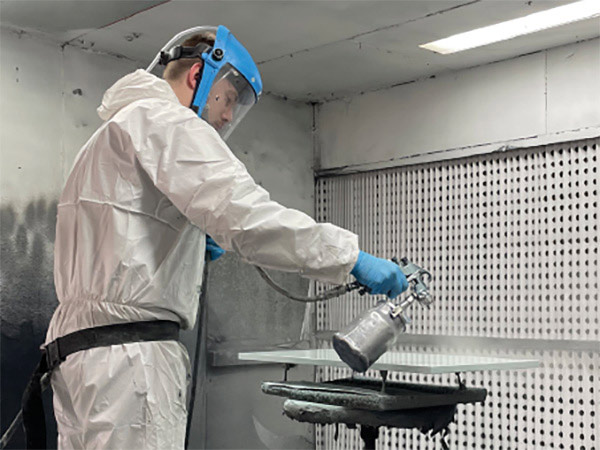 He recognises that this success is down to good partnerships. "In 2016, when we set our strategy, partnerships was absolutely one of the foundations of that. We believe you get the most out of a relationship if you share similar values and have mutual goals and are prepared to invest in each other and work together. That's what's enabled us to get where we are and celebrate 75 years."
Business for Moores breaks down to 50% with private developer house-builders, 35% in the public sector and 15% retail. "And we like having that balance," says Barrett. "It gives the business stability, as one market could be going through a dip as another is going through a peak."
The Moores client list reads like a who's who of top house-builders – Barratt, Persimmon, Redrow, Vistry and Bellway. It also works with large builders such as St Mowden Homes and specialists Churchill Retirement, as well as regional developers such as Duchy Homes in the north-west.
Moores offers an end-to-end service to its house-builder clients, including design and installation, as Barrett elaborates: "The service proposition is a kitchen installation management service. They will tell us they'll be ready for the kitchen in four weeks' time, we'll go out and survey the plot, identify any issues and make sure it is at the right stage or readiness, so that when we turn up with the kitchen, and the fitter arrives to do the installation, we're giving it the best chance of success. That is something we have worked very hard on."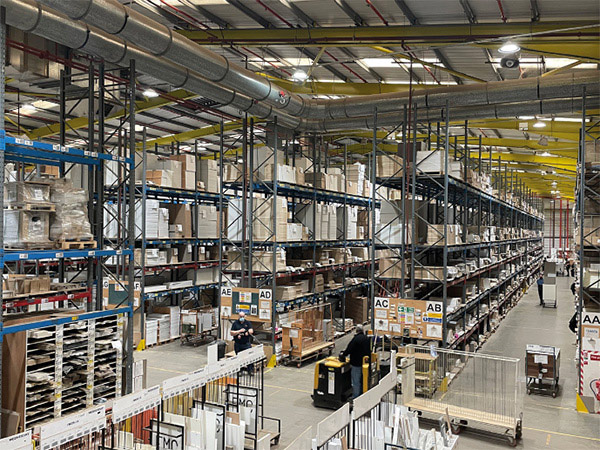 Moores has a team of 20 project managers nationwide reporting to three regional operations managers, who report to a national head of installations. A team of 10 employed installers do any work needed in customers' homes after they have moved in. The rest of the installation work is carried out by subcontracted fitters.
On the public sector side, Moores deals with refurbishments, where they might be doing minor refurbs to as many as 300 properties, then they have the new-builds.
Moores has continued to invest in production and now has a machine that makes its own cardboard packaging, as well as new spray booths, ovens and polishing lines. It invested £2 million in a new biomass boiler in 2020, which burns all the offcuts and waste. Barrett says: "It made us more efficient and meant we can sell energy back to the grid. It saves us something like £500,000
a year."
Moores is also very proud of its collaboration with well-known Michelin-starred chef Michel Roux Jnr for its Roux range of kitchens: "Its goes back to 2016. We wanted to have a premium offering that resonated with people and had a message behind it. We saw the opportunity to partner with a professional chef and engaged with Michel Roux Jnr and he really got on board with it. We combined our knowledge and expertise in kitchen furniture with Michel's knowledge and expertise in what makes a kitchen really usable. And we're really proud of that relationship."
Roux is also in selected Homebase stores, of course, and Moores has a long-standing relationship with the retailer, selling through its 140 stores.
KEY FACTS
Employees: 570
Factory: 600,00sq ft
Output: 460,000 cabinets a year now, capacity for 1.2m
Installations: Around 400 kitchens a week
Logistics: 30 deliveries leave the factory every day 
"We have dealt with Homebase for many years," says Barrett. "We currently work with them on kitchens, which we supply rigid-assembled. We started with them on kitchens in around 2017. Prior to that, for a number of years we were supplying flat-pack bathroom cabinets to them for their Schreiber and Hygena brands. We had a really good relationship with them on bathrooms and we were growing the business together year
on year."
So what's next for Moores? "Strategically we know where we want to go in terms of our growth plans for the next few years," says Barrett. "We will continue to focus on our core markets, growing share within those existing customer bases and leveraging those partnerships, as well as looking to acquire new customers along the way. We want to keep evolving our product offering.
"We have some management changes happening over the next few months. Steve Parkin has been CEO and chairman for coming up to eight years in April and is going to move into a chairman's role and step away from his day-to-day CEO responsibilities, and I am going to step into that space, which is really exciting personally."