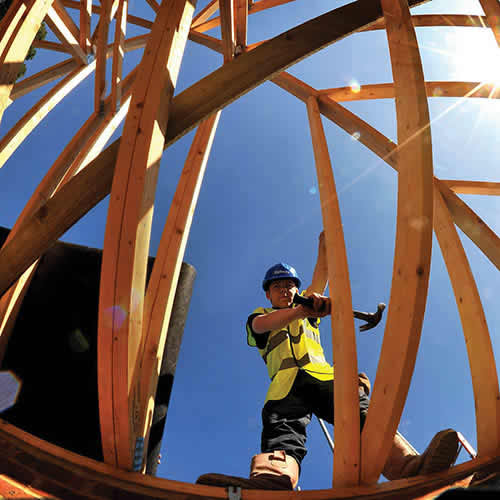 Higher material costs and an uncertain economic outlook have put the brakes on construction project starts, according to the latest Construction Review from sector specialist Glenigan.
In its October update on the construction industry, Glenigan reported a 9% decline in work starting on-site in the three months to September, with project averaging £6.9 million a month. This figure was down 20% compared with the same period last year.
Glenigan also blamed changes in building regulations for this temporary dip in construction starts. The Department for Levelling Up, Housing & Communities says the changes "mark an important step on our journey towards a cleaner, greener built environment and it supports us in our target to reduce the UK's carbon emissions to net-zero by 2050".
Main contract awards rose 3% during Q3 to average £8.84m per month, with a 27% increase in the value of major project contract awards.
Detailed planning approvals rose by 3% in Q2, averaging £8m a month, but were 13% lower than a year ago.
Almost every region in the UK, however, suffered a decline in project starts. The North-East was down 38%, the East 36% and London 30%. Northern Ireland bucked the trend with a 31% increase on the preceding quarter.
Construction output, according to the Office of National Statistics (ONS) figures, for the three months from June to August rose by 0.1% to stand 5.2% up on a year earlier. Its figures are skewed, however, according to Glenigan, which points out that they include projects that are currently under construction, many of which will have started earlier this year or in previous years
Among the fastest growing areas during the three months to August were social new housing (up 4.4%) and private new housing new work (up 4%), although civil engineering was still tops with an 11.9% increase.
Output for repair and maintenance projects were especially weak, down 4.9% on last year, suggesting that businesses and household are reining in their spending.
Looking at residential housing in detail for the three months to September, the report showed a 33% decline in the value of underlying residential work starting on-site against the preceding three months.
But Glenigan pointed to reasons for optimism in this sector as residential main contract awards were up 7% on the preceding three months and up 11% on a year ago. Planning approvals increased 20% on the previous three months but were 2% down on the year before.
Private housing accounted for the greatest proportion of project starts in the three months to September at 57%, but the sector saw a 21% fall on a year ago. Private apartments accounted for a third of projects, which saw a 56% fall in value.
Most regions in the UK experienced a decline in residential project starts, with London faring worst with a 71% decline over last year. Even so, London still accounted for 16% of all start-ups, which was more than any other region. Bucking the downward trend was the South-East, which showed a 3% growth in project starts.
In the hotel and leisure sector, contract awards and planning approvals increased on the preceding three months. And although contracts awards increased by 37% over the previous three months (but down 20% on 2021), there was a 52% fall in the value of hotel and leisure work starting on-site. The report also highlighted the challenges the construction industry faces with regard to skills shortages: "The shrinking UK labour force has implications for construction. Although construction employment has grown over the last year, it remains far short of pre-pandemic levels. Despite this with many employers report recruitment and skills shortages. The industry will face competition from other parts of the economy as it seeks to recruit and build its w