Burnout.kitchen: The great outdoors
With outdoor kitchens a growth area, having gained impetus during the Covid pandemic, Chris Frankland talks to Burnout.Kitchen importer Matt Hall to find out what this German brand has to offer.
When Matt Hall of Clover Kitchens was looking last year for another brand to bring into the UK to complement his existing KH System Möbel offering, he had already identified outdoor kitchens as an area of great growth potential.
As he puts it: "There has been a doubling of interest in outdoor kitchens each year for the past four years."
He admits he just happened to come across the Burnout.Kitchen website on the internet one day and liked what he saw.
He recalls: "I knew outdoor kitchens was a growth area. It [Burnout] is a brilliant product. It was not in the UK and no one knew about it. So I thought, if they want to come to the UK, I want to be the person to bring it in."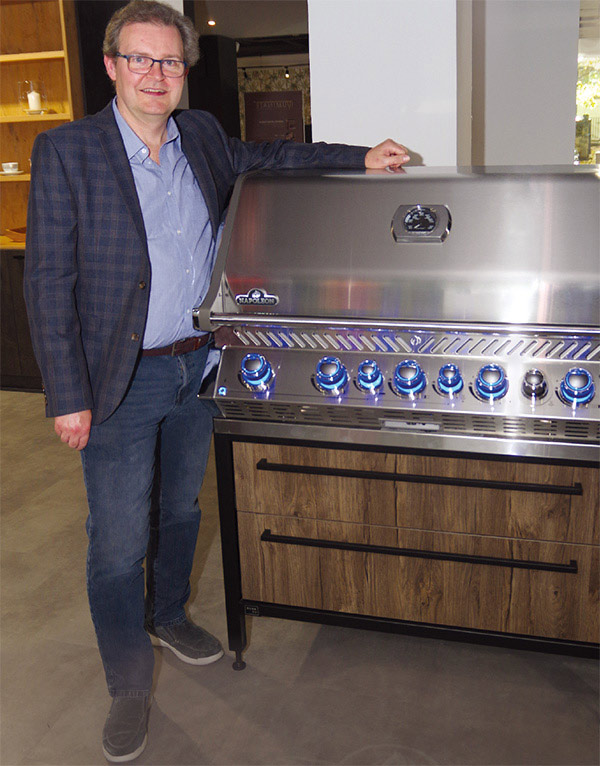 So he approached co-owners Daniel Joachimmeyer and Thomas Pabst in Germany and arranged to meet them at their Bissendorf headquarters during Hausmesse last year. After a tour around the factory, they shook hands there and then.
Burnout itself only started trading in 2017, but in just five years has grown to supply more than 140 retailers in Germany and Europe and in that time has achieved a turnover of just under €10 million (£8.7m).
The Burnout founders' backgrounds were in engineering and carpentry and Joachimmeyer worked for surfaces specialist Rehau, which supplies Burnout with its laminate panels.
"They weren't the first to market in Germany," says Hall. "But I think they saw the market and what level of value there was and thought they could do something better, longer-lasting, easier to deal with and install."
365 days a year
And there is no doubt that a lot of thought has gone into the choice of suitable materials for Burnout kitchens. As Hall explains: "One of their main requirements was something that could live outside 365 days a year whether you are on the equator or the North Pole. Something that would last 20 years plus.
"We are talking materials that are designed to sit outside all the time and look as good in many years' time as when they were first put together."
As part of that, Burnout has also made sure its outdoor kitchens are easy to clean and simply recommend using a jet washer.
Burnout makes as much of its kitchens as possible in its own factory in Germany. It buys in the square-section stainless steel frame tubes and its own team of welders then assembles them into whatever configurations are needed.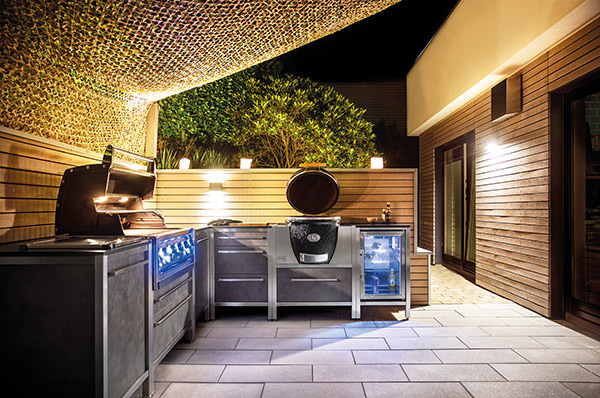 Frames are offered in three finishes, brushed steel or a black or silver powder-coat.
The panels themselves are made from a UV-resistant laminate with an internal honeycomb laminate substrate. These are bought in from Rehau and then cut to size for each kitchen project in Burnout's factory.
The panels are then bonded together to ensure a waterproof joint using a laser edging machine. This was a recent €1 million investment by Burnout, which also uses robots to transport the panels around the factory.
Burnout's outdoor kitchens are also modular, so they can be configured just how the customer wants them and added to at any time in the future. They may include things like a gas grill module, a fridge, a sink or a ceramic charcoal Kamado grill module.
To make selection easy for customers, the Burnout website has a configurator tool that allows them to choose the exact kitchen they need. Burnout then puts the customer in touch with its nearest retailer.
Says Hall: "It's all about keeping it simple and getting the commitment from the customer then and there rather than a week later. And that can be when the lead goes cold."
Burnout can supply modules to fit the leading brands of grills, which the retailer would need to order in directly, but they do supply their own-brand grills made for them by Napoleon and Monolith.
Modular
As well as being modular, kitchens can also be supplied on either height-adjustable feet or castors, which means it can be wheeled about to different locations in a garden.
And being modular, the user can also take the kitchen with them if they move house.
There is also a Burnout.Lux variant, which is finished either all in black or all in white and has a granite worktop as standard (normally this is an option) and a plinth rather than being open at the bottom.
Hall currently has five showrooms signed up in the UK, but he points out that to sell Burnout outdoor kitchens the retailer must have at least one on display. Currently, the five stockists are Creative Spaces in Halifax, EH Smith in Birmingham, AOS in Ringwood, KSL in Sudbury and BBQ Kitchens in Chiswick, which is where Hall and I met for our interview.
But Hall has one major requirement: "We will only work with displaying retailers. If there is no space to properly display Burnout, then it won't work. It is that sort of product.
"I am hopeful that before the year is out, we will have commitment from another five to 10 retailers."
Hall concludes: "I think the traditional independent kitchen retailers who are switched on are seeing the opportunities, and that if they have the space they can dedicate to it, it is sensible to take full advantage of that. If you are selling maybe £80,000 of indoor kitchen to someone, why not add on £17,500) of outdoor kitchen?
"We have plans to go to Grand Designs and The Home Build and Renovation Show to, build the brand image and create a desire among consumers for the product to drive people into our retailers."