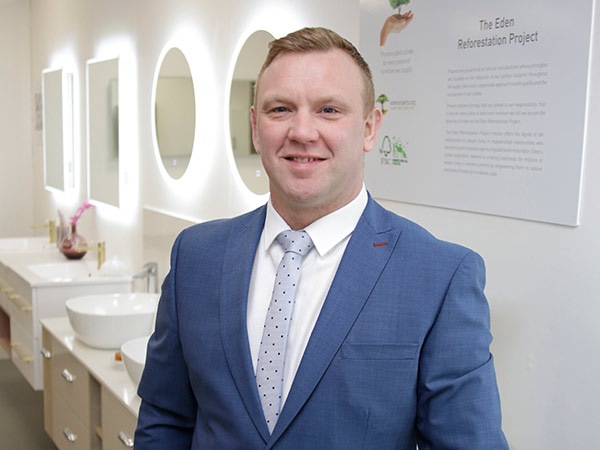 Richard Sharp, managing director of the Leeds-based Phoenix Bathrooms business, reveals details of its new strategy and explains why its transformation is good news for independent bathroom retailers.
Based in Leeds, the company was established in 2000 by Nicky Sharp, one of the original founders of Just Trays (now JT). It began life as a bath distribution business – with a particular focus on whirlpool bath systems – and has organically evolved into a complete bathroom product supplier as chairman Nicky and his son, company MD, Richard Sharp (pictured), recognised the changing needs of the market.
"Originally called Phoenix Whirlpools, for some time we were a bath specialist," Richard Sharp explains. "However, as trust in our understanding of the industry and our service grew, our customer base started asking for more product and so we progressed – quite quickly – becoming a distributor offering brassware, furniture, sanitaryware etc on top of the baths.
In mythology, the Phoenix is said to represent trans-formation, strength, and renewal. While it may not have been deliberate, its name couldn't be more appropriate to describe the latest chapter in the Phoenix Bathrooms story.
Having worked in the family business since the age of 16 – from the warehouse and factory floor to his current role of MD – it's fair to say that Richard has effectively had an unofficial apprenticeship in bathroom business management. Products under the Phoenix brand are designed and developed by Richard and the UK team in partnership with manufacturing partners in Europe and the Far East.
"Though we had effectively become a distributor, we didn't want to go down the traditional route of selling brands. We only wanted to sell our own products. To that effect, I believe we were one of the first distributors to go down the own brand route."
We've aligned ourselves with independents because there's synergy between us on quality and service
Evolved
"Over the past 20 years, Phoenix has evolved from a leading whirlpool bath specialist into a bathroom distributor with one of the most exclusive and all-encompassing ranges available on the market today," Richard says.
"We offer a broad range so that our retail partners have something to meet the needs of every customer. But what's key is that because we understand the market, not only are the products straight-forward in terms of fitting, but the range itself is comprehensive but not overbearing."
To enhance its position and to maximise its furniture manufacturing capabilities and increase its service to independent retailers, in 2017 the Sharps made the decision to acquire Acorn, a local furniture manufacturer with a loyal customer base.
Integrated into the Phoenix Bath-rooms company, they still manufacture made-to-order furniture for Acorn's original customer base, under the Acorn brand, as well as producing stock furniture to meet the needs of Phoenix Bathrooms' customers.
"We invested £1 million in machinery for our new production facility to enable us to run the furniture production side of the business as efficiently as possible and enable future growth," Richard explains. "We wanted more control over the furniture we could supply. When you're sourcing product, you're often limited by the choice you can offer. By bringing the manufacturing in house, not only can we be flexible and agile with lead times, but we can also react to the needs of our retailers in terms of trends and styles their customers are demanding."
According to Richard, this, along with the fact it holds around £10m retail value worth of stock at its warehouse, puts the company in a strong position – particularly during the pandemic.
"We offer 13 different furniture ranges, with IZONE being the most comprehensive," he says. "We're selling around 40,000 units per year. That gives you an idea of our capacity and popularity of our product."
As a supplier that deliberately changed its strategy during the pandemic and one that imports a significant proportion of its portfolio, understandably kbbreview is curious to know how it dealt with that challenging period.
Covid challenges
"When the pandemic hit, we decided outright that if we had to bank roll the business while it played out to ensure we came out if it the other side, then that's what we'd do.
"Because of the new strategy and our focus on independents, we obviously saw a drop-off in business while showrooms battled to understand if they could open. But, once they were officially able to open then, like the entire industry, we saw demand increase and our average order value has tripled."
As part of its new strategy and the fact it had realigned its product quality and pricing, they made the bold decision to stop dealing with merchants – a gradual process that began during Covid – so that it could concentrate on independent retailers as a point of difference from other brands.
"The Phoenix of 2000 is a completely different business in 2023," he says. "We're not interested in that race to the bottom or trying to compete with anyone on price. Our strength is in the quality of our product, our staff, our service, and our stockholding – and that's where we see we have the edge over other suppliers.
"We're aligning ourselves with inde-pendent retailers because there's an obvious synergy between us on quality and service. At the end of the day, we all want the same thing – to make money. If Phoenix can make some, and our customers can make some while delivering a product that the end consumer is happy with, it just makes sense. It's a very simple business model, but if you get it right it works."
It's our job to respond to what our retail partners need, and we always strive to be better
He adds: "We're the busiest we've ever been and I put that down to the new ranges that we're offering and the way we're taking them to market."
The new strategy, he explains, focuses predominantly on two levels of partnerships with its retailers – Platinum and Gold – and those categories are defined by turnover and display commitment as well as the willingness of the retailer to maintain and grow the relationship.
"We have around 400 Platinum and Gold retailers," he says. "There are a number of new targets or retailers we're working with in some capacity but aren't yet signed up to the Platinum or Gold status. With just the 400 retailers we work closely with now, we're ahead of the turnover we were doing when we had a customer base of almost 2,000.
"I can also confidently say that the majority of dealers that have committed to 'the new Phoenix' have at least doubled, maybe even tripled, their turnover."
One of the few positives to have emerged from the pandemic is the fact that the market is embracing colour and new styles. People are being more daring and are keen to inject their own style and personality into their homes because they've had more time to think about how they want their home to look – a trend that Richard says is prevalent and plays into its strengths as a supplier of the complete bathroom product portfolio.
"It's our job to respond to what our retail partners need, and we always strive to be better than we are," he says. "We've kept pushing that quality and that was part of the reason behind buying Acorn, so that we could be in control of our own destiny – making our own products at the right quality. On the furniture side, we're completely flexible, we don't have to wait for anyone. If the market wants something, we can bring it to market quickly."
What's next?
Last year, turnover hit the £11m mark, but Sharp and his team are ambitious. They are confident that, thanks to the new strategy and its constant investment in product quality and service, they can triple that figure within the next three to five years.
"We're a flexible, fast-moving company with no financial restraints," he says. "We're profitable, but we're constantly reinvesting in the business to ensure that we make everything we do even better than before.
"We launched the new strategy two years ago, but we spent one of those dealing with a pandemic, so we're only a year into putting it into motion. And that is working with independent retailers to display our complete range of products."