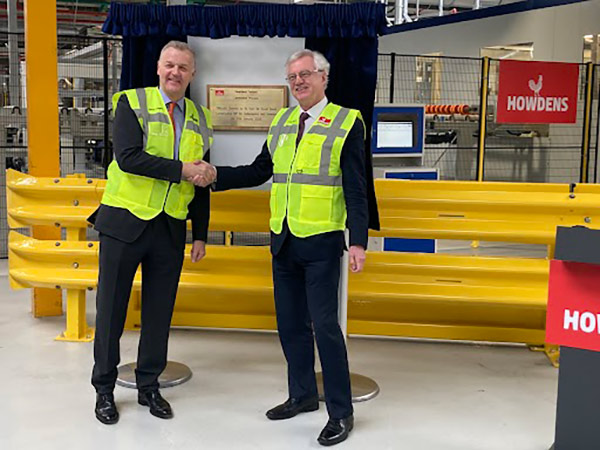 Trade kitchens giant Howdens has unveiled a new multi-million pound production line and extension at its factory in Howden, Yorkshire, as part of its ongoing strategy to increase its manufacturing capacity in the UK.
The new gloss door line – part of the company's Heartland investment project – was unveiled by David Davis (pictured right), the local MP for Holtemprice and Howden, and Andrew Livingston (pictured left), CEO, Howdens.
According to Howdens, the new facility will reduce the number of imported doors in its portfolio, allowing it to reduce lead times and remain competitive on price. Once fully-operational the line – which measures 1km – will produce around two million units per year.
Howdens says this site extension will create around 100 new jobs in the local area, including machinists engineering technicians and quality control specialists.
Speaking at the official opening of the factory extension Andrew Livingston, Howdens CEO said: "I would like to extend my thanks to everybody who made this incredible investment possible, It's a significant investment and it's absolutely the right one. It's creating jobs, it strengthens the supply chain to our 800 depots across the UK, it gives us flexibility and agility in our supply chain and it gives us better cost prices to make us even more competitive. It also strengthens our support to our trade customers, allowing them to get their jobs done quickly, affordably and efficiently."
Lee Parish, director of manufacturing, Howdens said: "We are continuing to invest in increasing capacity at our two major manufacturing sites in the UK to support Howdens' ambitious expansion plans in the UK but also internationally. The new factory extension strengthens our commitment to UK manufacturing and provides our trade customers with more high-quality kitchen and joinery products at the best local price, while always being in stock."
The investment follows a period of reported further sales growth for the company, since its record-busting first half results in summer 2022. Its trading statement for the period from June to October showed sales were up 6.6% over the same period in 2021 and up 44.7% compared with 2019. It's full-year results will be announced on February 23, 2023.