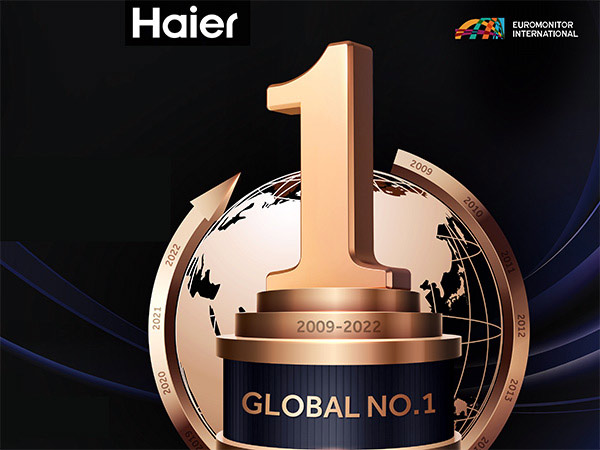 Chinese appliance giant Haier has been named as the number one global major appliance brand for the 14th year in a row.
In Euromonitor International's consumer appliances report for 2022, Haier was ranked as the world market leader in major appliances based on sales of its smart solutions, such as refrigerators, washing machines freezers and wine coolers.
Haier ranked first for sales of cooling appliances for the 15th consecutive year, for the 14th year running in washing machines, the 13th in wine coolers and for 12 years running in freezers.
To underline that, speaking at the Haier press conference in Berlin last year, European CEO Yannick Fierling revealed that one in every five cooling products, washing machines and freezers sold in the world is a Haier.
Haier continues to pursue its major focus on connected home appliances using AI and says that its mission is to bring high-quality technical performance to households around the world and make them smart. Fierling said at IFA 2022 that its objective is to have more than 36 million connected users by 2026.
Haier also owns the Candy and Hoover brands and uses digital platforms for R&D, manufacturing, marketing, quality control, logistics and services.
Commenting on the Euromonitor ranking, Haier UK chief commercial officer Jim McEwan said: "We are truly honoured to be the No.1 Global Major Appliance Brand for the 14th consecutive year in a row. It is a fantastic achievement at Haier, reaching this tremendous milestone. We are constantly striving to listen to consumers, changing needs and adapting to them, while simultaneously researching and harnessing cutting-edge technology, to stand out in the market".
The latest available annual financial report, for 2021, shows Haier's global revenue at RMB 227.5 billion (£28.04bn) in 2021, with year-on-year growth of 8.5%. Profits were RMB 13m, which was up 47% from RMB 8.8bn in the previous year.