Premium appliance brand Smeg has signed a deal to supply MHK buying group retail members with its built-in and other products from its range.
The deal was agreed at the end of 2022 for the Italian appliance brand to supply MHK's network of retail partners. Products on offer to the buying group's members will include ovens, compact appliances, hobs, hoods, dishwashers and refrigeration, as well as range cookers and the company's iconic FAB refrigeration range.
Commenting on the deal, MHK UK sales manager David Morris said: "At MHK UK, our aim is to ensure that our retail partners have all the necessary tools and levels of flexibility to both generate and convert sales leads.
"We recognise that appliances play just as big a part as the furniture itself when it comes to creating design solutions that the answer the aesthetic needs as well as the specification and budget requirements of the customer. SMEG not only offers our retail partners a stylish alternative, but also, a brand that occupies a broad and unique market position with its product and price range. This makes the brands levels of innovation and quality available to all our retail partners customers."
Morris continued: "We are proud to be working with SMEG UK. This development further strengthens a portfolio of brands that have chosen to work with MHK UK and its retail partners – all of whom enjoy the benefits of the MHK central payment system. This system enables retail partners to pay for product, from MHK UK affiliated suppliers, after 30 days while suppliers enjoy the security of guaranteed payment. This makes MHK's supplier/retailer relationship both credible and financially secure – important considerations in these uncertain economic times."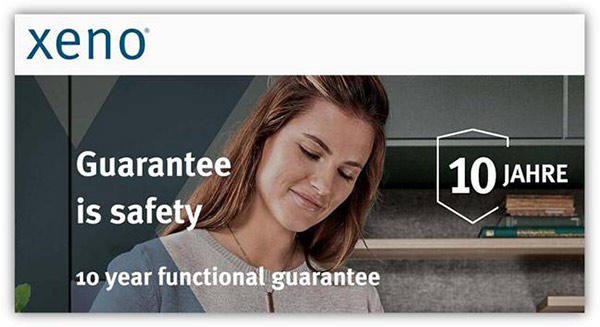 Meanwhile, MHK UK has also announced a free 10-year warranty on its Xeno own-brand kitchen range.
Xeno is said to offer a wide variety of styles at competitive price points. The new insurance-backed warranty covers all moving parts, including such items as drawers and door hinges and will also contribute £85 towards a retailer's costs if a rectification visit is needed to replace any parts.
MHK UK sales director Paul Wheeler, commented: "We are excited to be launching this wide ranging warranty that further reassures the end consumer as well as providing a financial cushion for our retail partners – in the unlikely event that they need to replace any parts.
It's very much a 'win-win' scenario for both our retail partners and their customers. The warranty demonstrates our commitment to developing promotional tools to help our retail partners gain additional sales and to support them with the costs of maintaining the warranty – while offering consumers added value."
Smeg will be holding a presentation of its products to MHK UK retailers at its head office in Abingdon, Oxfordshire. MHK will also present the changes to the Seno kitchen range. The event is open to any retailers interested in joining the MHK buying group.