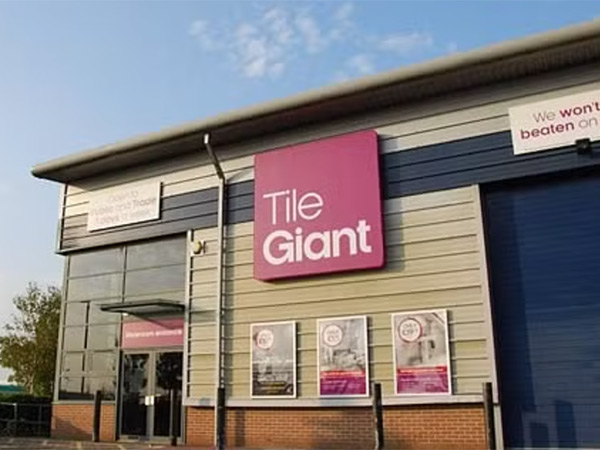 Tile and surfaces retailer Tile Giant have gone into pre-pack administration leading to the closure of 13 stores. The remaining 69 stores have been saved by Stiled Holdings Limited and CTD Tiles.
In the administrator's statement, it cited that its administration and closure of the stores was because Tile Giant "had experienced significant trading difficulties over the course of 2022" like so many others in the home improvement industry.
Tile Giant had 82 stores and a HQ in Leeds and Neil Morley and Howard Smith from Interpath Advisory were appointed as joint administrators on February 13. As soon as they were appointed, they immediately sold the company to two parties.
Through the sale, 303 jobs have been saved across 69 stores and the HQ. However, 13 stores have been closed with immediate effect causing 43 redundancies. The administrators are providing support to those who have lost their jobs.
As part of the agreement, jobs of 255 members of staff across 56 stores and the head office were saved as part of a deal with Stiled Holdings Limited. It will also take the trading name, goodwill and the assets.
While, 13 stores and assets have been sold to CTD Tiles, which has saved a further 48 jobs. Speaking about how this will affect CTD Tiles, Shaun Mason, CTD's head of commercial and supply chain, said: "We want to drive forward our vision of CTD and we will continue to look for further opportunities to grow both organically and through acquisitions."
Katie Clapham, CTD's HR and marketing director, said: "We want all of our CTD colleagues, to feel part of our growth story and provide them the possibility to actively engage in delivering success. We are looking forward to welcoming our new team members."
Tile Giant was acquired in January 2023, however once the new management undertook a review of the business it was found that more funding was required than anticipated. Plus, there was additional pressure due to a number of creditors acting due to unpaid arrears and reducing their credit terms to the company.
Neil Morley, director at Interpath Advisory and joint administrator, said: "While retailers specialising in DIY and home improvement enjoyed a period of growth during the pandemic, the squeeze on disposable income caused by the current cost-of-living crisis is now starting to place significant pressure on cashflow."
"We're therefore pleased to have been able to secure these two transactions which will enable the majority of the Company's stores to continue to trade, and importantly, safeguards a significant number of jobs."
Matt Williams, CEO of Stiled Holdings, said: "Today is an important day for all stakeholders at Tile Giant, and particularly for its customers. Our focus as the new owner will be to put the customer at the centre of everything we do; that starts with ensuring that all existing orders are honoured and fulfilled in a timely and convenient way. I am thrilled to have the opportunity to lead Tile Giant back to growth, profitability and unleash the potential of the brand."