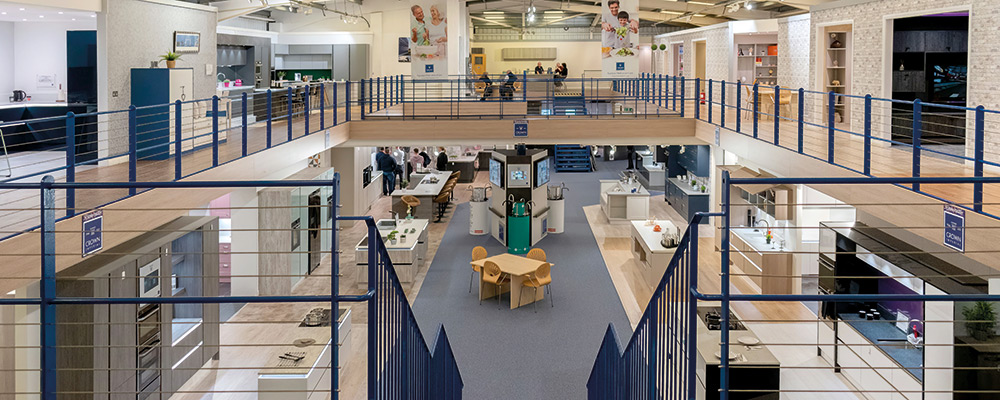 What is the philosophy of Crown and Waterline?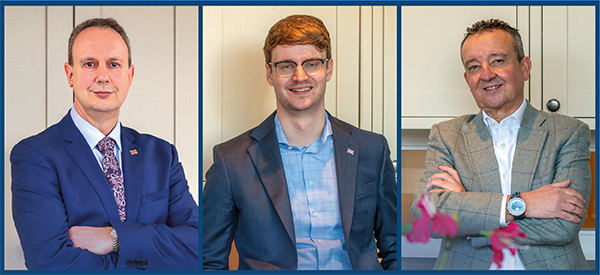 Crown has become one of the best-known British manufacturers in the sector. In 2011 it acquired Waterline, a move that led to its claim to be 'the UK's largest supplier to independent kitchen specialists'. kbbreview meets MD Barry Head, sales director Rob Taylor and finance director, Michael Marriott to find out more…
When you talk about the benefits of British manufacturing one of the first words it brings to mind is 'heritage'. And you can't get a more British heritage story than one that starts with an RAF pilot turning his hand to manufacturing after World War Two.
"Mine and Michael's grandfather was in the RAF during World War Two but was too old for combat so instead, he flew VIP transport planes across the North Atlantic," explains MD Barry Head. "After the war, in 1946, he – Len Head – started a manufacturing business making wooden toys for children – selling them from a shop on Fulham high street. The wooden toys led to tables and chairs, which eventually led to kitchen furniture in the '80s."
Crown has been a proudly British manufacturer for 76 years, operating out of its factory in Herne Bay, Kent. In 2011, it became even more relevant to independent retailers as it acquired distributor Waterline and became a multi-service provider.
"Waterline was set up solely to service the needs of independent kitchen specialists," explains Taylor, who was one of the original members of the Waterline team when it launched in 1985. "The original owner – Mike Lawrence – was an independent kitchen retailer himself, so we built the business off the back of that understanding of retailers' needs. Offering kitchen furniture – which we originally sourced from Crown before we became part of the Crown Group in 2011 – was the start of a very important journey for Waterline. We began offering that complete package of kitchen furniture, appliances, sinks, taps and ancillary kitchen products – to our retailers. Something that has become synonymous with our business.
"We're pretty unique. There are plenty of people retailers can buy furniture, appliances, sinks, and taps and worktops from, but there's very few that you can buy all of it from. We have a very powerful offering."
Not only that, Taylor says that as both the Waterline and Crown portfolios offer products at so many price points and styles, it is relevant to almost every retailer and end-consumer.
"We deal with retailers who sell our kitchens for £10k, but we also deal with retailers who are selling our kitchens for £100k," he adds. "That's the key with our furniture and, in fact, our entire portfolio – we have something for everyone. We're not pigeon-holed in a certain sector of the market, because we cater for anybody."
The distribution arm of the business – Waterline – operates from its head office in Newport Pagnell and has depots in Bolton and Bristol. As part of its strategy to offer a greater service to its retail partners, in 2000 the company invested in a 15,000sq ft showroom in Daventry, featuring an impressive array of Crown furniture in kitchen, bedroom and living space room sets. It also showcases elements of the Waterline portfolio.
"On a good day, Daventry is only two hours away from the majority of the UK," explains Taylor. "Which is why having our Crown showroom here makes absolute sense. We understand that retailers have limited showroom space and often that has to be shared between several key brands. So, this showroom is a fantastic resource for our retail customers all over the UK and we actively encourage them to visit with their clients or to send their customers here to view a wider portfolio of products."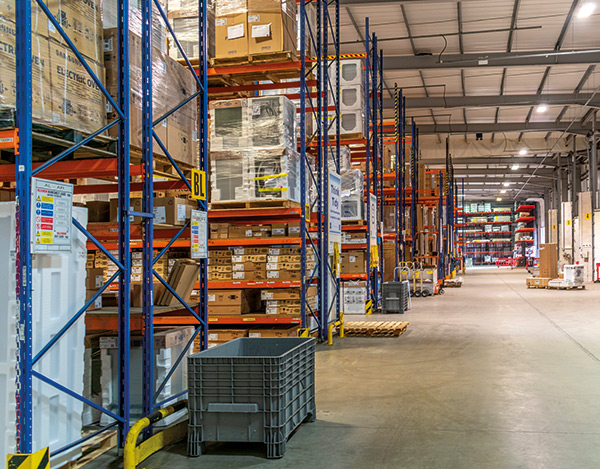 Valuable
In fact, during its visit, kbbreview learns for itself just how valuable a resource like this is, not only for the business but also its retailers and consumers. As we're getting a guided tour of the showroom, one of the company directors is in the middle of showing a retail customer – who is considering diversifying – the breadth of its bedroom furniture offering. At the same time, a young couple – sent by a retailer – are perusing the vast kitchen displays and a local retailer is showing one of his customers around.
It's not just the product offering – which includes some of the biggest names from the KBB industry – the showroom or its manufacturing capability that makes this company really tick either. According to Head, running a successful business and driving it forward is all down to having the right balance of people and skills.
"The challenge is always to push the business forward and, to do that, it's essential to have a mix of people and skills," Head explains. "You need people who have been around long enough to experience the ups and downs – such as Rob, myself and other members of the business as a whole. But you also need new people with new ideas and new experiences and that's where we're benefiting from Michael's [Marriott] input."
Taylor adds: "I'm a salesperson and my skills are very different to Barry's and Michael's, but together we have a great dynamic. And that's how you build a great organisation. That said, there is also an element of Michael Head – the company's chairman and Barry and Michael's father, who passed away in 2021 – in all of us. He was such a formidable character and a great businessman."
Finance director Marriott joined the family business in 2021 with a background in corporate finance. He reflects on how these family values and, again, the company's broad skill base, helps set it apart in a competitive market.
"I'm very proud to be part of the family-run business," he says. "And I'm not just referring to ownership here. If you drill down into the rest of the company, it's made up of lots of employees – many of which are from the same families – who have been working here for 20 or 30 years. This, without a doubt, elevates our customer service and appeal.
"To me, Waterline is the baseline because retailers can buy everything from us. So, if you're going to buy something from anywhere else, the question should be why?
"So, if we continue to elevate the standard level of service, that should challenge everyone else in the industry to meet, or exceed, those levels of service."
Investment
Throughout its history, the company has been investing to achieve that ultimate goal Head outlined – to "push the business forward". This not only includes expanding its product portfolio, but also updates and extensions of its production facility as well as an £10 million stockholding – a fact that became most important during Covid.
"We're in a really robust position," says Taylor. "We own all of our key buildings, which includes the factory in Herne Bay, the showroom here in Daventry, our distribution head office in Newport Pagnell. It's a very comfortable set-up and the benefit of that for the retailer – and Covid is a great example of this – is that we have been able to invest significantly in stock."
Reflecting on how this strategy helped the business and its retailers during the pandemic, Head adds: "We had the confidence to place orders for the stock that we were confident that, if we had it, our retailers would want."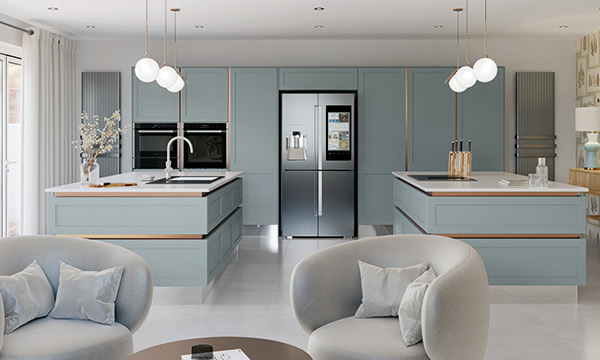 With the chat inevitably turning to Covid, kbbreview is keen to get an under­standing of where the business is now and what their plans are for the future.
"The pandemic was undoubtedly a challenge, and those challenges were different for the Crown and Waterline elements of the business. We, like the rest of the industry, benefited from the growth in demand for home improvements during Covid and, equally, we saw the demand drop as people were allowed to leave their homes again."
Touching on the well-documented supply chain disruptions that were brought on by the pandemic, Taylor adds: "The beauty of the Waterline offering is that, despite the supply chain problems, we have such a broad portfolio that we worked extremely hard to ensure that we always had an alternative option available for our retailers."
So, what's next?
"We're working on various, exciting projects – including new products and services – that will happen over the next six months," says Marriott. "These will create further benefits for our customers as they come to fruition."
Taylor adds: "For me, it's that simple. Our aim is to continue building a relevant portfolio so that we, not only appeal to more retailers, but also help more retailers do good business."
• For more on British manufacturing see our feature, pages 46-52