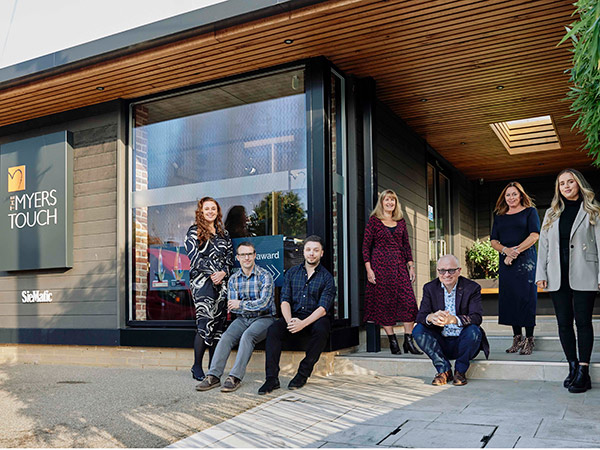 Husband-and-wife team Keith and Helena Myers are celebrating the 20th year in business for their independent kitchen design studio The Myers Touch.
Winner of kbbreview's prestigious Kitchen Retailer of the Year award in 2021 and Kitchen Showroom of the Year in 2017, The Myers Touch is recognised as one of our leading premium kitchen design studios.
The couple regularly host talks at architects association Riba, Grand Designs and The Homebuilding and Renovation Show.
Keith and Helena moved their growing business to their current 210sq m showroom in Winchester in 2015 to showcase additional luxury kitchen displays and expand their hosting space for clients and customer events.
The new state-of-the-art architectural building has wraparound floor-to-ceiling glass and is entered through a bamboo garden.
Before this, the Keith and Helena operated from a former fireplace showroom, where they moved to in 2007 after working from home for the first three years of the business.
Commenting on this milestone for the business, director Keith Myers said: "What makes our business stand apart is that we adopt a Life + Design formula to create each new kitchen commission. We combine kitchen components of the highest quality with inspirational architecture and interior design so we can unlock a client's home potential.
"Our design approach ensures each of our kitchen designs enriches household relationships and the homeowner's quality of life through the efficiency, functionality and beauty of their space which we often refer to as 'creating kitchens with light, space and laughter'."
To mark the 20-year milestone, The Myers Touch has recently redesigned its website, revealing new European brands, including Italian furniture manufacturer CopatLife and German brand Eggersmann. Both new brands will have their own displays, which are in the process of being finalised.
The company also launched its own kitchen brand in December last year, called Möbelife, answering the need for an entry-level contemporary German kitchen collection.
The Myers Touch is also planning various events throughout the year to commemorate the anniversary.