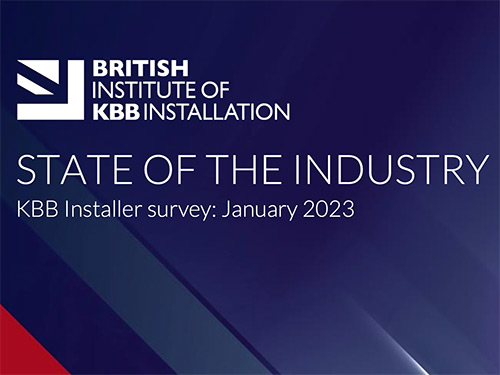 KBB fitters and installers are worried about rising costs, a falloff in consumer spending and a resulting drop in workload so much that the majority would considering leaving the sector altogether.
These are the worrying findings of a new survey by the BiKBBI that took place in December and January.
Just under half (49%) of installers said that operating costs were their biggest concern for 2023 and a third cited the economy and slowing consumer spending. In contrast to the last few years, just 4.7% said it was the supply chain.
These macroeconomic worries mean that two-thirds of installers said that they were concerned or very concerned about their business this year. And it's not hard to see why when 43% said they thought their workload will reduce in the next 12 months.
Four out of five installers said that they didn't think the government was doing enough to support them and all these concerns combined mean that three out of every five of installers (62%) said they could leave the industry for more money and better opportunities.
The survey also revealed the strength of feeling on taking on apprenticeships – seen as key to solving the skills gap in KBB installation.
When asked what was stopping them taking on an apprentice, 28% said there was too much red tape, 18% said it was too expensive and 16% said they simply don't know where to start.
And while 18% said there was a lack of government support, just over half (54%) said that the industry isn't doing enough to support them in employing an apprentice.
Nearly two-thirds (64%) said that they hadn't seen an increase in the number of customers asking about environmentally-friendly solutions and products however, of course, that means that a third have.
Equally, nearly a half think the industry is doing enough to reduce its environmental impact, but a third think there is more to be done.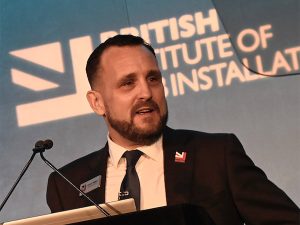 Damian Walters, chief executive of BiKBBI (pictured), said: "The scale of concern in the KBB installation sector on the subject of the economy is not surprising, I think it would be remiss of any business to not have some level of concern, considering the challenges we have faced and those that are yet to come. What is surprising is the volume of our existing workforce that would be prepared to leave the industry.
"Ordinarily, this would be concerning, but whilst we are in the midst of a deep-seated skills gap crisis, this would be catastrophic for the home improvement sector and demonstrates why it is crucial that businesses dependent on an installation function support the work of the BiKBBI in order to drive positive change and build a sustainable future workforce."
The research project, which targeted KBB installation businesses and installers and took place across December 2022 and January 2023, consisted of 10 questions covering key topics including the economy, the skills gap and sustainability.
Hear Damian Walters and other experts talk about the skills crisis in the KBB installation sector on this episode of The kbbreview Podcast.