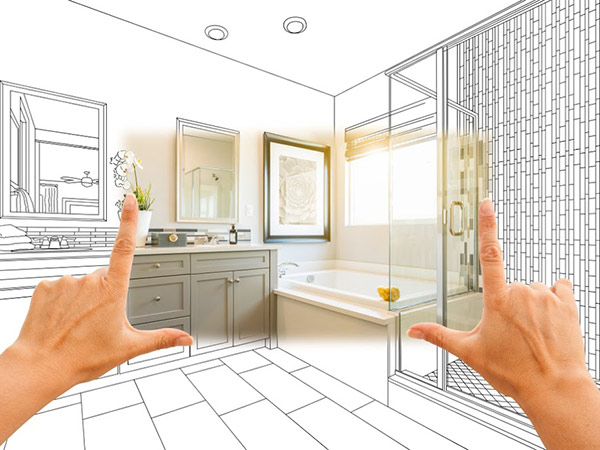 Two recent polls have forecast a rise in bathroom refurbs for the year ahead and two-thirds of consumers still planning home improvements.
According to the latest data from the Bathroom Manufacturers Association, more consumers are planning a complete bathroom refurbishment this year.
The BMA commissioned Opinium Research in February to carry out a poll of 2,000 UK adults to reveal their bathroom refurbishment plans over the next two years.
Thew poll showed that 26% said they are planning a complete bathroom refurbishment despite a gradual decline in numbers since the peak of 25% in June 2021.
The numbers planning partial makeovers and tap replacements were also up over the same period.
Although those polled said they are less likely to undertake a general bathroom repair, down to 27% from 29% in July 2022, it was still named as their most likely task to undertake, with 27% planning to replace a shower control or taps.
The cost-of-living crisis, said the poll, has caused a drop in the number of people intending to use professionals for a complete bathroom refurbishment, but 53% still said they would use a professional for a complete refurb and 40% would seek professional help to replace bathroom taps.
Said BMA CEO Tom Reynolds: "Bathroom manufacturers and their partners are operating in a challenging economic environment. Seeing an uptick in homeowners looking at a complete bathroom refurbishment is welcome news. It could be driven by numerous factors, such as adapting to multigenerational living or adopting more energy and water-efficient products.
"As consumers look to save money, we could see an increase in the purchase of innovative products designed to cut energy and water bills. Professional installers are critical for this endeavour. Their advice and knowledge ensure customer satisfaction, compliance and safety."
Another poll of just under 1,000 consumers in March carried out by Eureka also gives some cause for optimism, revealing that two-thirds of households are still planning work on their property that will require the hiring of at least one tradesperson in 2023.
In terms of recommendations, the BMA's poll showed that while 33% would rely on a recommendation from a friend or family member to find help with their projects, online sites such as Checkatrade were the preferred method. And almost half of those surveyed (48%) were confident they would find a professional in time for their projects.
Among the trades named as likely to be in demand in 2023, plumbers and heating engineers were top of the list at 46%. Not so good news from Eureka was that kitchen fitters were named as least likely to be used.
The report said that demand during 2023 was forecast to be "very bumpy" and that those who position themselves in the middle ground are more likely could feel the squeeze more than those at the premium end of the market.
Eight out of 10 high earners told the Eureka poll that they intend to bring in a professional for work in their homes at some point this year, indicating a very strong year in prospect for those positioning themselves at that end of the market.
Eureka director of research Dave Ruston commented: "Our recent data appear to confirm what many suspect – that different parts of the economy are operating at different speeds. Plumbers top our list of the trades most likely to be in demand in 2023."
He continued: "But of course much of this could be routine maintenance and servicing work – some of which have been deferred from previous years for various years. It's clear to us from this snap poll that a challenging year awaits for most consumers and this will inevitably dampen demand for bigger ticket items such as bathrooms and kitchens."